Advertising with The Tiger Print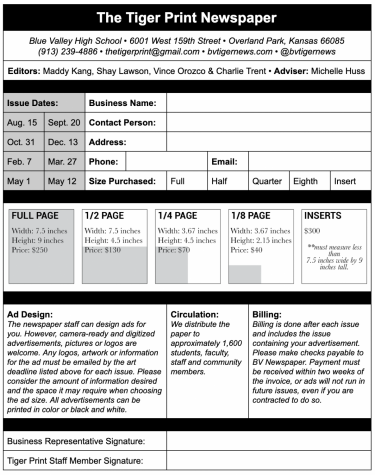 The Tiger Print newspaper is a great way to reach more than 1,600 students, faculty and community members in the Johnson County area. The paper is published at least seven times per school year.
There are four different ad sizes to best suit your business — full page, half page, quarter page and eighth page. Single or multi-page inserts are also available for a higher price. Inserts must measure less than 7 inches wide by 9 inches tall.
The staff can design the ad for you, but camera-ready and digital logos or pre-made advertisements are welcome. All ads can be printed in color ink.
Billing is done monthly and includes a copy of the issue containing your ad along with the invoice. This will also be done electronically via email. Checks made out to BV Newspaper must be received within two weeks of invoice, or ads will not be run in future issues even if you are contracted to do so.
Email any logos, artwork or information for the ad at least two weeks before the publication date. Please consider the amount of information desired and the space it may require when choosing the ad size.
If interested in advertising in The Tiger Print newspaper, contact us at [email protected].
See our ad contract for information on advertising during the 2019-20 school year. Our staff looks forward to working with your business.