Popular band releases new music, worth purchasing despite varying versions of album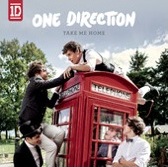 The popular British-Irish band One Direction just released their sophomore album, "Take Me Home," on Nov. 13 in the U.S. This album is full of 13 catchy pop songs that will get stuck in your head whether you like it or not.
First off, the boys, Niall Horan, Harry Styles, Liam Payne, Louis Tomlinson and Zayn Malik, all had more input in this album than their first. They co-wrote three of the songs, and Niall played guitar on a few songs also.
Three of the songs from the album, "Rock Me," "Kiss You" and "They Don't Know About Us," were leaked on Nov. 2. One Direction's management decided to stream the entire album on iTunes Nov. 5. Finally, it was released Nov. 13.
Unlike their debut album, "Up All Night," all 5 boys now have equal solo time. It's no longer Harry, Zayn and Liam, it's Harry, Zayn, Liam, Niall and Louis — which is awesome. They all have fantastic, completely different voices that sound incredible together. Cheers to Simon Cowell for putting them together.
The singles that were released prior to the album, "Live While We're Young" and "Little Things," are huge hits already. The newest single released is "Kiss You."
"Little Things" and "Over Again" were both written by the amazing Ed Sheeran. The difference between songs written by Sheeran and their other writers is very obvious . "Little Things" is about loving things every girl is insecure about. It's adorable. Sheeran calls it "an appreciation song."
I have to say, a large portion of this album is made of the pop that I wouldn't listen to if I wasn't already a big fan. But the amazing vocals literally make up for it. The lyrics are okay, nothing you wouldn't expect. It definitely highlights the boys' abilities, and they sound great together.
My favorites are "They Don't Know About Us", because it reminds me of old *NSYNC songs, and "Summer Love" because of its super-adorable story of the typical summer romance.
Now, there is a yearbook edition of the album with four bonus songs. But there is also a Target version with five different bonus songs including live recordings of "I Wish" and "One Thing." This is extremely frustrating because you have to buy all the albums separate. What a rip off. But I will tell you, those bonus songs are definitely worth it. My favorite bonus song is "She's Not Afraid" from the yearbook edition. While this song is upbeat, many of the bonus songs are slower and definitely cuter compared to the rest of the album.
Overall, this is a great album and was for sure worth the wait.