Somewhere to go, nothing to wear? Simple outfits to fit Halloween costume needs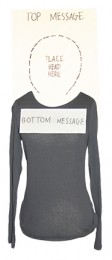 Got invited to a Halloween party? Forgot to buy a costume? Here are some quick and easy ideas that can be used to make a last-minute Halloween costume.
MEME
Supplies: 
Poster board, markers, tape, scissors
Instructions: 
1. Cut poster board for background to desired size.
2. Cut smaller rectangular piece of construction paper for front.
3. Write first part of desired message on top of large piece.
4. Write second part on the small rectangle.
5. Tape larger piece behind head to back.
6. Tape smaller piece to front below neck.
STICK FIGURE
Supplies: 
Matching shirt and pants in a solid color, solid-colored duct tape (different color than shirt and pants), white Paper Plate, one Popsicle Stick, black Marker
Instructions: 
1. Make torso, arm, and leg lines on shirt and pants with duct tape.
2. Glue popsicle stick onto plate for handle.
3. Draw stick figure face on plate with marker.
iPHONE
Supplies: 
Black shirt, paper, tape or fabric glue, scissors
Instructions: 
1. Print off or draw iPhone home screen icons on paper.
2. Cut out each app icon with scissors.
3. Attach desired icons to shirt with tape or fabric glue.
If all else fails… Use a sheet to make a ghost costume and add your favorite accessories!