Humans of BV
Humans of Blue Valley is inspired by the blog 'Humans of New York' by photojournalist Brandon Stanton
What is your happiest memory?
"When I went to Young Life camp in Minnesota."
— junior Joe Schuchardt
"These guys are the dancers, but I also have a passion for music, so I produce the vast majority of the music we dance to."
— junior Alex Buchert
What's your favorite thing about yourself?
"My smile — I like to smile a lot. I don't stop smiling. I smile underwater."
— freshman Kyra Redstone
What's one word to describe you?
"Black-dynamite."
— sophomore Ari Joseph
What do you want in the future?
"I want to be a computer programmer [and] possibly go to MIT."
— freshman Asa Abrahamson
Why do you love Blue Valley?
"My favorite thing about Blue Valley is the debate team. Everybody in debate, or at least all of my friends in debate, are so close, and we all have really nice conversations. We just have a good time."
— senior Sam Reber
What's something you wish people understood?
"I wish people wouldn't think they were higher or above someone."
— junior Lucy Hall
What's one thing you love in your life?
"My family. I love being with them. I probably say that because my mom's in Pakistan right now, so I'm living with my sister."
— junior Zainab Zahid
What's your best memory of traveling?
"This is the first thing that jumps to my mind — I wouldn't say it's my favorite, but it's one I enjoyed — sitting outside under the stars at night listening to a reggae-jazz fusion band playing Beatles songs in Spain."
— Spanish teacher Jill Gouger
About the Writer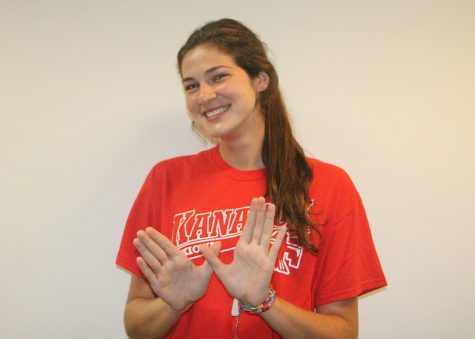 Courtney Carpenter, Co-Editor
Courtney Carpenter is the co-editor of "The Tiger Print." She enjoys writing feature stories and meeting new people. Courtney loves playing volleyball,...