Twinning is Winning
Sophomore twins share stories about life as a twin
There are both good things and bad things about being a twin, sophomore twins, Abby and Anna Quigley said. Abby said her favorite part of being a twin is having someone to help her with her homework and always having someone there for her.
Anna said having a twin is not fun having a twin when they are always in space and business.
"[I] can never really be independent until I move out," Anna said.
Abby and Anna seem to get along, but just like any other siblings they argue but over little things that don't matter.
"It can get a little awkward when they are arguing about something, and they try and get you on their sides, and you have to try to be the middle man which isn't always fun," sophomore Clare Hyland said.
The Quigleys said they agree sharing a birthday is one of things that they don't like about being twins rather than sisters.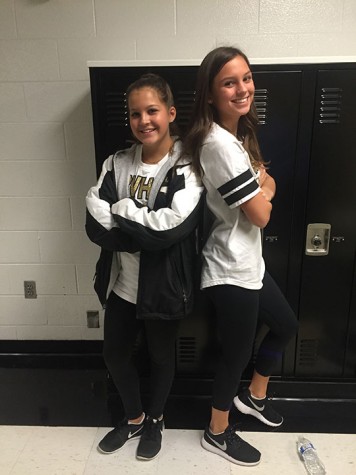 "We both help each other in homework since we both have different strengths and weaknesses it helps, and it's really good for homework," Abby said.
Anna and Abby are both involved in cheer, track and volunteering. They are involved in almost everything together Hyland said.
"Well both of them are pretty academically strong, Anna is a really good artist, and Abby really good at track so they each have their own individual strengths. They are both really good at school and stuff like that," Hyland said.
The Quigley household is filled with twins. Abby and Anna have younger twin sisters named Ella and Ava.
"It's always better to have a twin," Anna said, "I've never like wished I didn't cause its pretty cool."
The twins can agree, despite their twintelepothy, their taste in guys is in complete opposition Abby said.
"Oh no they're about opposites; the guys that I think are attractive Anna's like oh he's disgusting and ugly," Abby said.
Although the twins said they are best friends, they disagree on who is better at something, more organized, always on time Hyland said.
The Quigleys are not identical twins but still share the twin vibe.
"We looked really similar when we were probably around the age of 8 and younger. We look like sisters but not that similar," Abby said.
Anna said they get compared to each other and sometimes people mix them up.
"At first people [mix us up] because our name both starts with 'A' and stuff like that, but we don't look alike so not really [anymore]," Anna said.
The Quigley twins agreed they will always have each others backs.
"I think it is unlike anything else I feel like no siblings with an age difference have the same type of bond that twins do." Anna said.
There is no doubt these twins have a special bond Hyland said.
"It's way different when you don't have a twin I just don't think people understand. I don't know how to explain it. There is always someone there for you," Abby said.