Junkyard Mania
Blue Valley student talks about trashy car
If you've taken a look at the BV parking lot, you'll seem to find a variety of car brands, models and ages. Not all of them are pretty to look at, but they still seem to get students to the places they need to be.
Amongst these cars is senior Noah Patterson's 2004 Honda Odyssey.
"I feel gorgeous in the car," Patterson said. "I feel like I'm on top of the world and like the car and I are one. "
Patterson got the car from his grandparents as a sophomore. He said he loved it because it got him around places. He has such love for his car he decided to name it Sheila.
"It's a sexy name for a sexy car," Patterson said.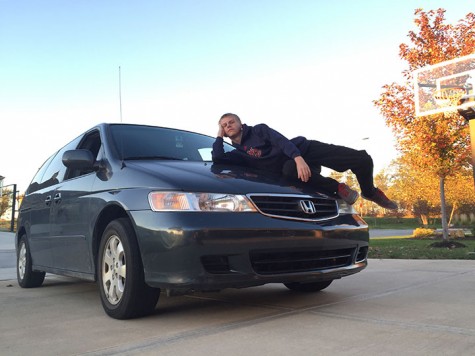 Patterson said some reasons he enjoys Sheila is because she fits seven people comfortably, and she's a social statement. She also sparks a lot of good conversation and can fit a bed in the back for camping trips.
Even though Patterson seems to flaunt his car, he said not every high school student would love to have a mini-van.
"[Not every high school student would Sheila because] it's a minivan, and its got scratches on it. And a 17-year-old kid is driving a mom car, so [students] think that's kind of weird," Patterson said. "It's kind of old, a weird color and it's kind of messy. She's really dirty because I'm too lazy and too cheap to go buy a car wash, and I'm too lazy to wash it myself."
However, Patterson isn't the only student with a junky car.
"[I'm] pretty sure [senior] Kyle Derringer doesn't have the best car," Patterson said. "Last year, there were some pretty crappy ones, but Sheila's more beautiful. Everybody has their flaws except Sheila."
BV alumnus and older brother Christian Patterson also had a minivan in high school.
"I know the pain and suffering and was able to use that for good," Christian said. "I would drive it out to parties and everyone loved me for it."
Christian no longer has a minivan. He now owns a Chrysler Sebring, but he said he still feels the pain Noah has to go through.
"It's exterior is all rusted and faded," Christian said. "The sound that it makes when it turns on — the motor makes it sound like a total clunker."
Nonetheless, Noah said Sheila is flawless.
"Other people might consider Sheila to be a junk car, but I consider her to be perfect and to be my car, which is not a junk car," Noah said. "It's a beautiful car."