New Music
For the past couple of weeks many artists have released or will be releasing their new albums, and so in the spirit of all the releases below are the upcoming/new albums.
Revival by Selena Gomez
Genre: Pop
Release Date: Oct. 9
Number on Album: 14 items
Most Popular Songs: Good for You, Same Old Love
Selena Gomez's new album called Revival is one of the most personal albums she has put out so far. With nearly all her songs written by herself, songs like "Same Old Love"tells a story of her own personal history.
Purpose by Justin Bieber
Genre: Pop
Release Date: Nov. 13
Number on Album: 19 items
Most Popular Songs: What Do You Mean?, Sorry
With Justin Bieber's last album being released in 2012, his new album called Purpose is expected to be his best album yet. His new mature sound and meaningful lyrics about his personal history will make his album most likely in the top 10 albums on iTunes.  
Made in the A.M. by One Direction
Genre: Pop
Release Date: Nov. 13
Number on Album: 19 items
Most Popular Songs: Drag Me Down, Perfect
One Direction has been teasing their songs throughout the past weeks, which makes fans more excited about the release date of their album, which is coming by quickly. With their careers at an all time, their new album will take them to a new level. With their upcoming album it has been said that they have taken their music to a rock/edgier which is a very different sound from their past albums.
Storyteller by Carrie Underwood
Genre: Country
Release Date: Oct. 23
Number on Album: 14 items
Most Popular Songs: Smoke Break, What I Never Knew I Always Wanted
Carrie Underwood's album Storyteller marks 10 years since she left American Idol with a recording contract. With her hectic personal life as being a wife and a mother, she was able to put out a brand new album, which doesn't disappoint. She is set to tour the states at the beginning of next year.
25 by Adele
Genre: Soul/Pop
Release Date: Nov. 20
Number on Album: 11 items
Most Popular Songs: Hello
After not releasing an album for more than 4 years, Adele is back on the charts with soon to be her third album. With her new single "Hello",a heartrending ballad, playing on every single radio station, many anticipate for her new album to be an amazing piece.  
Delirium by Ellie Goulding
Genre: Indie Pop
Release Date: Nov. 6
Number on Album: 23 items
Most Popular Songs: On My Mind, Army
With Ellie Goulding unique vocals, she is set to release her third studio album called Delirium. This album showcases her spirit while she expands her craft by taking risks in her latest albums. Ellie Goulding fans will not be disappointed with her upcoming album.
About the Writer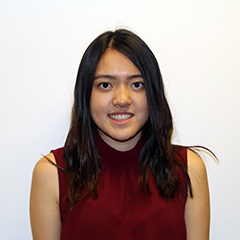 Lydia Hsu, Staff Writer
Lydia Hsu is a staff writer of "The Tiger Print." She enjoys listening to music, hanging out with friends, watching movies and going out on adventures....