Black and Gold Family Tree
Blue Valley is not a new school. It was founded in 1969 and since then a lot of students have gone through, many from the same families.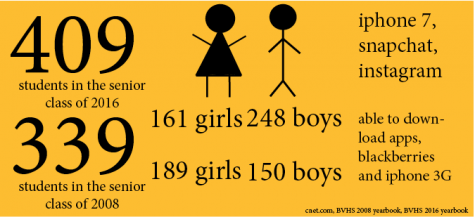 "All three of my siblings have [gone to BV]," freshman Abby Loats said.
In freshman Alex Pena's family, her older sister, mom, aunt and uncle all went to BV, and her younger sisters will soon follow.
Loats even had some of the same teachers as her siblings did, like Mr. Mowry, who teaches social studies, Mrs. Bakalar, who teaches english and Mr. Briggs, who teaches industrial classes. Loats and her siblings share some of the same activities,
"Right now, I do cross country and DECA," Loats said, " All of my siblings did cross country and some did DECA."
Both Pena and Loats are enjoying their time at BV much like their families.
"The classes are a little bit hard for me at the moment, but I'm going to get better at managing my time," Pena said.  
Pena also knows friends whose families went to BV "Maddy Lovetere, her dad and uncle went here too"
Both Loats and Pena said that they would have their kids go to Blue Valley if they had the chance.
"I would [send my kids here] because the teachers are great…it gives you a little taste of what the future work environment is like." Pena said.