Groundhog Day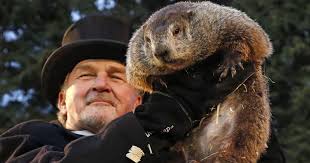 Every year on February 2nd, the all-time famous groundhog, Punxsutawney Phil, gets pulled out of the ground by men wearing top hats. If Phil sees his shadow, its 6 more weeks of winter, if not its springtime! 
Phil is scheduled to come out at 7:20 am, his live debut is broadcasted through the network CBS News. It is also live-streamed by Visit Pensivalivna, allowing more people than ever to watch his habitat. 
The history of Groundhog day is not commonly known among many people. As Christianity spread through Europe, Imbolc advanced into Candlemas, a banquet recognizing the introduction of Jesus at the heavenly sanctuary in Jerusalem. In specific places of Europe, Christians accepted that a radiant Candlemas implied an additional 40 days of cold and snow. Which then turned into the Pennsylvania Dutch superstition that if a groundhog rising up out of its tunnel on this day sees its shadow because of clear weather, it will withdraw to its den and winter will continue for six additional weeks, and in the event that it doesn't see its shadow due to cloudiness, spring will show up before the expected time. The Pennsylvania Dutch were immigrants from Germanic-speaking areas of Europe.
Today, the biggest Groundhog Day festivity is held in Punxsutawney, Pennsylvania, where swarms as extensive as 40,000 accumulate every year. The normal draw had been around 2,000 until the 1993 film Groundhog Day, which is set on the celebrations in Punxsutawney, after, participation rose to around 10,000. Phil is claimed to be a supercentenarian, having the same forecast since 1887. In 2020, the 134th year of the viewing, the groundhog was called to turn out at 7:25 am on February 2, and didn't see its shadow.