Crazy for Crumbl
Staff writer reviews Crumbl Cookie weekly flavors
Crumbl Cookies was co-founded by cousins Jason McGowan & Sawyer Hemsley. Their goal was to go on "the perfect cookie quest."The first Crumbl store opened in 2017 in Utah.
"From day one, it was important to [McGowan and Hemsley] that Crumbl customers see their cookies being mixed, balled, baked and dressed in real-time," said the official Crumbl website.
As Crumbl continued to grow, so did its menu. In December of 2018 Crumbl officially added their now iconic, weekly rotating menu.
"The brand now focuses on developing unique and delicious cookies inspired by popular flavors, foods, desserts of all kinds — from pies to cakes to candies and more," Crumbl said.
Staff writer Ava McGuire tried out the Crumbl flavors for the week of September 5-11, 2021. Read her review below to get her scoop on the super popular cookies.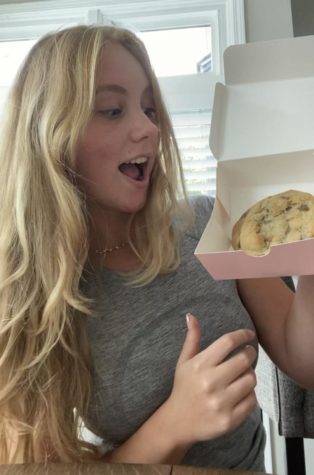 Quality – Delicious. The cookies taste exactly like their named flavors. They are large and have a perfect frosting-to-cookie ratio. I tried the  Banana Bread, Waffle, Old Fashioned Doughnut, Classic Sugar, and Milk Chocolate Chip cookies. 
Presentation –  Each cookie is super unique to its flavor and they are overall really cute. The aesthetic of Crumbl itself is visually appealing and the pink boxes are super trendy. Not only did the cookies taste like their named flavors, but they also looked like them. The waffle was so perfect, even down to the "butter" and "syrup."
What I liked – Banana Bread tasted and had a texture exactly like traditional banana bread — it was super thick and rich. Waffle was great too. The cookie had a wonderful cinnamon flavor and the frosting had a nice, sweet contrast. Old fashioned doughnut tasted exactly like a doughnut but had a cookie texture. Classic sugar was… well…a classic sugar cookie! The sweet almond frosting was to die for and the cookie itself was the perfect mixture of flaky, chewy, and soft. One of my favorite cookies of all time, the beloved milk chocolate chip, is my go-to from Crumbl — I highly recommend it. It's no surprise that it's in the top ten most popular Crumbl flavors.
What I disliked – It's hard to find a dislike in these delicious treats, but I will say that the syrup in the Waffle clashed with the other elements of the cookie. 
Value/cost – Even though the cookies are large, they average $3.50 apiece. For the experience, it's worth it, but as an everyday thing, the buck isn't worth the bang.
Final opinion – I absolutely love the creativity behind Crumbl, as well as the physical store itself. The open kitchen concept is a great way for customers to see the process of making the magic, as well as allowing them to feel more connected. A rotating weekly menu is genius and something new that I really enjoyed. I love how Crumbl keeps their classic Chocolate Chip every week because, in my opinion, it's definitely the best (and worth the price). Based on the presentation, my favorite cookie has to be Waffle. The best, most scrumptious flavor comes down to a tie between Banana Bread and the good ol' Chocolate Chip — I really can't choose. I rate my overall Crumbl experience a 10/10, and I highly recommend it to anyone looking to try it!