Performing arts seniors participate in shooting stars competition
The Shooting Stars Recognition, Scholarship and Awards Program is a merit-based competition for seniors run by the Arts Council of Johnson County. The competition consists of nine different categories. A teacher may nominate one student per category. Once nominated, the student fills out a résumé-like document which includes a short answer question about why the category is important to them. The Arts Council will take into account the information on these résumés while determining the winners. Each category winner will receive a scholarship worth $2,000. The winners will be announced at The Arts Council's Annual Shooting Stars Gala on April 1.
Evelyn Davis
Senior Evelyn Davis will compete in the Photography category of the Shooting Stars competition.
Davis said she appreciates the fact that the winner of the scholarship is not based on talent alone.
"Winning the scholarship is also based on merit," she said. "Also, to win they are looking for community service and achievements in a sort of balance."
Davis said her interest in photography began in high school.
"It was the first time photography became a big part of what I do," she said.
She submitted eight choice photos in a portfolio on Jan. 20.
Five of these eight photos had to be available to be put into the Nerman Museum of Contemporary Art, one of which will be displayed at the museum.
"I'm excited and honored to be in the Shooting Stars competition and to have my work in the Nerman," Davis said.
Alex Petersen
Senior Alex Petersen will compete in the Musical Theater category. For this category, he will sing two songs of his choice at his audition on Jan. 28.
Judges for the Shooting Stars competition will determine the recipient of the scholarship.
Petersen said he has been performing in musical theater since he was seven.
"My mom asked my brother and me if we wanted to audition for this one community theater show," he said. "My brother said no, and I said, 'Sure, why not?' And now here I am, 11 years later, still doing it."
Petersen said Shooting Stars is a good way to bring in money for college.
"I'm all for making college more affordable," he said. "It's a friendly competition with people from a bunch of schools. It really makes you raise your game and work hard."
Mollie Chesis
Senior Mollie Chesis will compete in the Literature category.
Chesis said she enjoyed seeing the competition become a reality rather than just something she heard about at assemblies.
"When I heard about it I was just thinking 'I love creative writing, it's for a scholarship, so why not?'" she said.
She submitted one piece of writing on Jan. 9.
Chesis said writing allows her to put her experiences into words.
"We can channel our experiences into literature to make it 're-experienceable,'" she said. "Writing is a powerful way of expression. But sometimes words can't describe some emotions and everything perfectly."
She said her connection with writing started at a young age.
"I have been interested in writing forever," she said. "The moment that really stands out, though, was in elementary school when we had a children's book author come talk and show the books to us. I vividly remember it. I turned to my neighbor and, for some odd reason, I was just like 'I have to go start writing a book.'"
Chesis said the fact that her sister won the Shooting Stars contest fuels her desire to win.
"This is a really cool scholarship I want to reach," she said. "It was either fate or hard work that brought me to being in this competition."
Lauren Reardon
Senior Lauren Reardon will compete for the 3-D art category scholarship. She prepared a portfolio consisting of a required eight pieces of art.
"It depends on the artist what they want to make for the 3-D category," Reardon said. "You can do sculptures, you can do ceramics or just anything that's 3-dimensional. I mostly do sculptural things and some ceramic pieces, but for this competition, it will be mostly sculptures."
Reardon began preparing her pieces for the Shooting Stars competition before knowing she was a nominee, but found out in October that she qualified.
To work on art pieces for her portfolio, Reardon took an independent studies art class third hour.
"It's hard because something like writing you could do at home on the computer, but for my sculptural pieces I need the tools at school," Reardon said. "I don't have the ability at home to cut wood."
Reardon said she became interested in art at the age of four or five.
"My mom, my grandmas and my great grandma — everyone that I looked up to — created art, and I didn't know any different," she said. "I wanted to be just like those people."
She said it looks really good to win a competition against some very talented students.
"Just being able to be in this is great because it helps to push you to make things you have never seen or heard of before," Reardon said. "If the judges see something similar to something they have seen before they will just pass right over it. You have to think of new, unique things the judges would like."
Reardon said she is looking forward to hearing the results at the Gala.
"I'm really excited to do this," she said. "I can't wait until April 1 when I get to hear what they thought of my pieces and if I won the scholarship."
About the Writer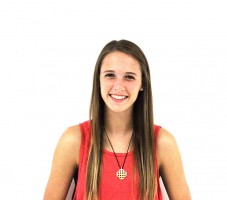 Hailey McEntee, Co-Editor
Senior Hailey McEntee is excited for her third year on the newspaper staff. As co-editor, she is looking forward to carrying on the legacy of her past...