Teachers spend time outside of school to assist with multiple clubs
It's 2:45.
Students know school is almost over.
They can't wait for that final bell to ring, symbolizing freedom and a time to relax.
For many teachers at BV, this is not the case.
They know that at 2:50, students will start piling into their classrooms to participate in the many different after school activities which they sponsor.
It's stressful.
It's loud.
It's hectic.
The question is: Why do teachers do it?
Jill Gouger
Spanish teacher Jill Gouger sponsors Bollywood Club, Dungeons and Dragons, Gay Straight Alliance and Young Progressives. She also teaches Spanish 2.5 and 3.5.
Gouger is not paid for any of the after-school activities she sponsors.
Gouger said through sponsoring, she hopes to help students feel accepted.
"I want everyone to be involved in the school and a part of the community," she said. "Everyone should have a place where they can belong. If I can provide an outlet for someone to feel more connected here at BVHS, then that's what I want to do."
The time commitment of each club varies.
"I basically have to delay everything," she said. "I have to delay my planning and grading since [the clubs] always meet in my room. I want to be involved in what they are doing, so I can't start my work until the meetings are finished."
Gouger said she hopes to have an impact on the lives of the students in her clubs.
"I am a pretty friendly, positive and open person," she said. "I hope that I've shown them that there are adults in this world who encourage them to be themselves and who accept them for who they are. I also want them to see that, regardless of their interests, there will always be someone with whom they can gel."
Adam Wade
Math teacher Adam Wade sponsors Relay For Life, coaches Categories and Scholars Bowl and takes students to math competitions a few times a year. He also teaches Honors Algebra II, AP Calculus AB and Pre Calculus BC.
Wade is paid for coaching Scholars Bowl and Categories, but is not paid for the other activities.
He said the clubs and activities he helps with take up anywhere from one to five hours a week.
"I can do a lot of the work anytime I want," Wade said. "The good news is that the majority of the activities that I do don't cut into the weekends, so I can still do a lot. I found activities that fit around my schedule."
Wade said for him, teaching would be boring if he didn't help with any clubs.
He said all the activities he sponsors are unique.
"[Relay For Life] is definitely more challenging from an organizational and emotional standpoint," he said. "But Scholars Bowl and Categories are more challenging from a mental standpoint. It's a different kind of dynamic."
While he does not have a favorite activity, Wade said Relay For Life has impacted him the most.
"Initially, it was something that I just agreed to do," he said. "I didn't necessarily know how much it would mean to me. My philosophy with that is that, at some point, cancer affects everyone in some way. I really feel that, with Relay, I am contributing to a very positive thing in society."
Jessica Janish
History teacher Jessica Janish helps plan Tiger Time lessons, co-sponsors Student Council and coordinates prom. She also teaches AP European History and U.S. History.
Janish has a pay incentive for all three of the activities she helps with. But she said being involved with different groups of people is the main reason she sponsors.
"I do them to get to know students outside of the classroom setting," she said. "It allows me to be involved with different students that I wouldn't have on an everyday basis. I also like being involved with other faculty in the building."
Janish said sponsoring activities has its ups and downs.
"[Sponsoring] has exposed me to lots of different personalities, lots of different talents and abilities that we have here at BV," she said. "The other way it's impacted me is it really is a lot of work. Teaching an AP class, I already have a lot on my plate. It's a lot of hard work, and it's really demanding."
While sponsoring can be stressful, Janish said she hopes to show students she cares.
"I would hope that I have a positive influence on them and that they would see me as a positive leader in their school," she said. "I would hope that it shows them that I do care and want to be here. I think sometimes students see you as a teacher, and that, for some of them, means that all you do is give them homework. I think it's nice sometimes to have them see me in a light where they know that I care and that I want to be there and want to be involved."
About the Writer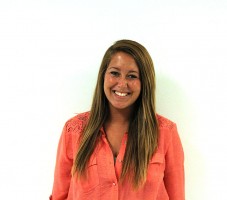 Maddie Jewett, Features Editor
Hi friends. Maddie Jewett is a senior, and this is her third year on the lovely newspaper staff. This is her second year as the Features Editor. She feels...