Band: From marching season to concert and symphonic bands, the BVHS band is made up of many sections that contribute to overall performances
Sally Cochran & Gennifer Geer, Staff Writers
May 29, 2013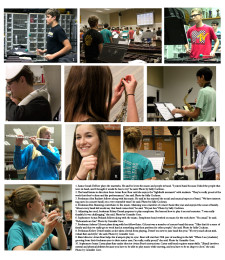 Sophomore Symphonic band clarinet Jonathan McHenry said Symphonic band is the top half of the entire band.
"Symphonic band is all of the members of the band who are the best of their instruments in the school," he said. "It's more practice, harder music, more work, a little harder grading."
McHenry, who plays the clarinet and baritone saxophone, also plays guitar for fun and is trying to learn piano. He has played clarinet since fifth grade.
McHenry said playing in State band was a fun experience.
"[State] was people from bands from all over the state, and we got to perform with one of the conductors that we actually play music from a lot," he said. "He wrote about three of the songs that we played this year. It was just fun — a whole bunch of band people got to mess around a little bit and then be serious for the state performance.
McHenry said his favorite part of band is performing.
In marching band, all of the members [of the band] go out during the summer. We're out for anywhere from five to eight hours a day. After that's done, during school, we begin to refine the parts of our performance that we're doing, and we have to fine-tune it so we can get ready to perform. We've also got the rock show, which is more for the entertainment of the crowd than the more musical aspects of marching band."
McHenry said he enjoys performing with the band.
"I love music, so it just feels great to go out and perform something that I love doing in front of the school," he said.
He said that performing at football games isn't incredibly nerve wracking.
"Usually I'm nervous in front of people, but you're around a whole bunch of other people," he said. "It just feels normal, natural. It's fun to perform."
He said that competing in band festivals makes him more nervous than football games.
"[Festivals] are a little more nerve-wracking because we're actually getting a grade [on our performance], and we're getting a score on how our performance is," he said. "We're actually competing with other groups to see who's the best band."
McHenry said he's learned many lessons from band.
"Just to love what you're doing," he said. "We all have to be encouraged to do our best, even when, sometimes, band can get strenuous, and, sometimes, a little repetitive. We just have to push through all of that."
McHenry describes the band as a family.
"There's a lot of joking that goes on," he said. "We all get along fairly well."
—
Director of bands Avian Bear said that directing in front of a class is just a small part of her job with the band.
"During marching season, I get everything set up for us to be able to travel to marching festivals," she said. "Sometimes we take charter bus; when we go to St. Louis, we stay in a hotel, so there's a lot of logistical things that I have to plan. We have several people that we bring in to help with marching season. Trying to coordinate all those people is part of the job also, making sure they're all happy with their work environment and the kids. It just keeps everything moving in one direction. Then, there's the teaching part of it."
Bear is also responsible for the band's public relations.
"We try to give back to the community as much as we possibly can," she said. "We rarely turn [opportunities to play in the community] down. We try to accommodate the community requests as much as we possibly can. There's a logistical thing to that; there's sending the right group for the right performance, making sure you're sending out students that are prepared to represent the program in a positive way."
Bear said she knew that she wanted to be a band director since the first year she was in band, fifth grade.
"I just thought being in a room with music and people that want to learn about music, there could not be a cooler job anywhere for me," she said. "So, I decided very, very early on that I was going to pursue music. At one time, I thought about music and art and realized I would be in college forever to do that. So I decided to just do the music part of it."
Bear said marching band, which combines both visual and auditory skills, is unique because it involves intricate timing due to delay.
"If they're on the back side of the field, they try to play ahead of the drum majors' hands; if they're in the middle of the field, they play with the drum majors' hands; if they're in the front of the field, then they wait for the sound that's coming past them," she said. "So, all the sound lines up as it leaves the field."
Marching band is also unique due to the concept of "moving alike."
"[Moving alike] is looking exactly alike everybody else as you're moving," she said. "That takes a while to learn, to break down every movement that we do so that it all looks the same."
Bear said band teaches students teamwork as well as music.
"It teaches them how to depend on others and how to be depended upon," she said. "Everything we do is the group, so you have to learn to be depended upon because the group depends on you. That's a really important life lesson."
—
When preparing for shows, Concert band provides a good combination of energy and focus to master the concert music.
"It's not exactly a no-nonsense kind of atmosphere," junior Nate Burr said. "You get a lot of work done, but it's not really tense."
Concert band takes place second semester after the marching season. Prior to that, all band members are in Symphonic Marching band.
Concert band involves rehearsing concert music with the occasional scales test.
Burr said he enjoys both band classes, but he slightly prefers Concert band.
"The music we play is a lot of fun," Burr said. "I like the people in it."
He said playing in concerts is easier than marching band because they don't need to memorize music.
"Marching band's also more physically demanding," he said.
For marching, Burr plays the melophone. He said the instrument is easy to hold and allows for fluid movement. However, he plays French horn in Concert band.
"Concert band was much harder this year because I was first chair," Burr said. "I had to play generally more difficult music than I've had to before."
—
Jazz band is a year-long class that plays different music than either Symphonic or Concert band. The jazz ensemble plays – you guessed it – jazz music.
Freshman Kelsey Demel joined jazz band second semester because of a class opening.
"I wasn't sure what I wanted to fill it with," she said. "My friend Morgan Lee was like, 'Hey, we need another saxophone in jazz band.'"
She said she didn't want to learn another instrument, but her love for band made the decision for her. Jazz music was also new to her.
"I was very afraid at first, but once I learned how to read the music, it advanced me so much in my knowledge and made me a better player," Demel said.
She said jazz music in general was harder to play. Because she had just started playing saxophone, she was nervous to start playing.
"There are lots of talented people who've been playing their instrument for awhile," she said.
Compared to concert music, jazz music has a new level of difficulty. The style of the music strayed from what Demel was used to.
"Jazz music is more in your face than I think a lot of concert music can be," Demel said. "In the musical aspect, there's more accents, faster tempos, more complicated rhythms."
Through these conventions, Demel said her clarinet playing improved.
Demel said jazz band needs more players — nine of 16 players graduated this year.
In order to promote jazz band and to gain more experience, jazz band members played music in the library.
"We appreciate everyone who came to see us this year," Demel said.
—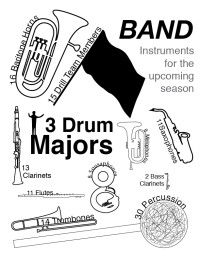 Football season wouldn't quite be the same without the marching band's halftime show. Preparation for this essential part of the fall begins far before the beginning of school. Band members start working on music in late May, with summer camps in June, July and August.
"We have a mini band camp thing, which is three days long," freshman Kelsey Demel said. "We work on music, since the new marching music is pretty hard."
Official band camp begins July 22. For band camp, band members take to the field and learn the marching steps, as well as memorizing music.
Demel said the band gets "really, really prepared" to help the marching show become second nature.
"It's very overwhelming at first, but because of all the preparation, when you actually hit the marching season, it's much easier," she said.
A huge part of the band's efficiency comes from the drum majors.
Sophomore Jefferson Harwood, who will be one of three drum majors next year, said drum majors serve as leaders of the band.
"We conduct the band; we make sure the tempo's all good [and] make sure they're watching us," Harwood said. "We make sure everything's set up with the directors and what they need."
Harwood said the drum majors put in more hours at rehearsal than most band members because they arrive early and leave late.
The audition process for drum major began in November. Last year's drum majors graduates Katie Shull and Courtney Hyland showed possible candidates how to conduct different time signatures. After a month of learning, drum major hopefuls conducted for the six band directors. From there, they had to teach marching skills and go through an interview.
"They would ask us questions about our character and who we were as a person," Harwood said.
Harwood said he was inspired to be drum major from graduates Meera Chakravarthy and Matt Cooper, drum majors for the year 2011.
"I really saw the way they worked together, and that's really helped me and the way I've worked with Mary [Morrison] and Joe [Lasley]," Harwood said.
Because drum majors spend so much time together, Harwood said he's glad to work with Morrison and Lasley.
"The great thing about us is our personalities blend together really well," Harwood said. "We bring different things to the table, so next year I look forward to those ideas helping us to move the band in the direction that we need to."
Harwood said he looks forward to a great marching season.
"I'm just really excited to work with [Morrison] and [Lasley], and I'm excited to see where the band goes this year," he said. "The show's going to be fantastic."