Team Work Makes the Dream Work: Girls swim team reflects on performance at State, anticipate for next year's season
Alex Kontopanos, Photographer & Riley Miller, Staff Writer
May 29, 2013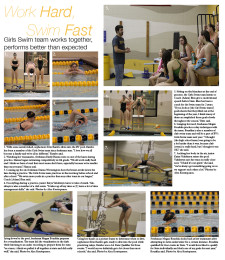 They anticipate the sound of the signal to start.
Their feet grip the starting block.
Their hearts pace with excitement.
They look towards the bleachers as the rest of their team cheers.
The buzzer sounds and they dive in.
They begin with the end in mind.
Members of Blue Valley's swim team practice every morning and afternoon during the school week in order to drop time and improve their techniques for the Eastern Kansas League, State and other meets. Practice hours add up to be approximately 25 hours each week, sometimes more. The team also does extra activities out of the water three days a week to improve stamina. Some of these "dryland" exercises include abdominal and core workouts, yoga and plyometrics.
A few team members have experienced injuries this season that have interfered with their performance. Sophomore swimmers Erin Rambo and Sidney Sibenaller have both had bilateral multi directional instabilities in their shoulders and junior swimmer Katya Vakshteyn ha
d tendonitis in her ankle from running during practice with her club team.
Sibenaller said she wishes she would have been able to reach more of her goals than she did. "I don't think I met my goals because I had the shoulder obstacle this year," she said. "But as a team I think everyone pulled it together at State and we did as well as we could with the small team that we have."
Freshman swimmer Emily Hanna said it took a lot of preparation to be ready for State. "I just everyday went out tried my hardest, tried to keep up with everyone, worked on my techniques, my butterfly and just gave it my all," she said.
Rambo said because the team is now 6A the qualifying times were faster and the drills and exercises they've done this season have really helped her and the team prepare. "Most of the team wasn't quite ready to get those times yet so we had to do a pre-taper before EKL," she said. "Taper is usually high intensity but low yardage so we're swimming so fast but it's not as much. What taper does is it just kind of saves up all of your energy and that way when you are ready for that meet you just explode and you drop a lot of time."
Swim Coach Adam Bien said he thinks the team had a great performance at State and he hadn't anticipated for them to do as well as they actually did. "I couldn't be more pleased with how the girls swam at State this year," he said.  "They really stepped up at the State meet and were able to get two school records and qualify all three of our relays to swim and finals."
Hanna expects to have a much better year next year because she didn't reach all of the goals that she had hoped she would. " I feel like it's a good stepping stone for next year — especially being a freshman — I think next year I'll have a great year," she said. "As a team, I think yeah, we did really well and we came together and did what we had to do."
Vakshteyn said although she thinks the team did well at State she highly anticipates a better season next year. "I think we reached a lot of our goals, but next year we want more
girls qualified for State."
Hanna said this is her first year on the high school swim team, but she's been swimming competitively since sixth grade. "I just decided to swim because I've been doing it for a couple of years now and I really like it," she said. "I thought it was going to be a whole lot harder than it actually was."
Sibenaller said she loves that everyone on the team has a good attitude about swimming and the vigorous training they have to do to prepare. "I love that we all support each other and that everyone is in a hard working mood," she said. "No one complains about practice and everyone wants to be their best."
Freshman swimmer Megan Boushka said everyone on the team is easy to get along with and the friendships they have among each other create a comfortable environment to practice in. "We're all really close," she said. "It's like we're all sisters."
Bien said he's really enjoyed getting to know this year's team because there are so many different types of personalities. "There are a lot of characters," he said. "I think that's what always helps makes the season go by faster — when you have some funny kids, some smart kids, some multi-athletic kids. The melting pot of this team really helped the team bond together too."
Rambo said she think she's become a lot better at pursuing her goals ever since she joined the high school swim team. "[Swimming] makes me want to be better at everything, not just swimming, it pushes me to [reach] my goals," she said.
Sibenaller said she thinks BV's swim team works harder than any other team. "We have more practice hours and harder practices than any other school I've heard of," she said. "Just the team environment and how we're so close makes us different than other teams."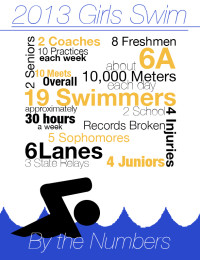 Bien said he really enjoys coaching the team because he's able to have a better connection with the students. "[Coaching] helps me get to know the kids a lot better on a more personal level," he said. "It helped me be able to affect their lives more too because they feel more comfortable being able to come talk to me since they see me for hours in the week."
Rambo said swimming has put a lot of pressure on her, but she loves to improve as a member of the team. "When I started getting down on times I started wanting it more and more," she said.
Bien said he thinks the BV's swim team has a better work ethic than any other team. "We swim more yards in a practice than any other team in our league for sure — probably in the state, I would say," he said. "They put in almost 10,000 meters a day when we have two-a-days, and you can't see many teams out there that do that."
Hanna said she loves everything about being on the team. "I love the early mornings, the bus rides, all the girls and just how we're able to have fun on practice and work hard."
Bien said the girls did really well this season, and the team never disappoints him no matter what. "We worked really hard all year long," he said. "We had a really tough week of practice in the beginning of April which I think really benefitted the team and got us to where we need to be. We're used to swimming tired at meets all year long and the girls are used to that by now. We don't always see the time drops that we want throughout the season but we always have the end in mind."