New season, new coach: Cross Country team welcomes new assistant coach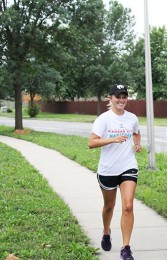 For Blue Valley cross country runners, change is in the air. No, the humidity level isn't going down, and they'll still need to "charge the hill." Cross country is undergoing a different change entirely.
Former assistant coaches Kyle Braden and Rachel Cunning will no longer coach the team, though both will return to BV as teachers. Fortunately for BV cross country, a new assistant coach is stepping in.
Business teacher Mallory Joseph starts her first year of coaching at BV after three years of student teaching at Blue Valley West. A cross country and track veteran from Fort Hays State University, Joseph coached those sports for two years at West. Along with instructing her Personal Finance, Marketing: Promotion & Advertising and Accounting classes, Joseph joins coaches Manal Siam and Diana Huber in whipping cross country runners into shape.
"She's definitely a good runner," cross country member sophomore Marie Hornung said. "I think she's going to be a really good coach and good for the team."
Joseph came aboard the BV team when a teaching and coaching position opened up. She said she fell in love with the culture at BV and looks forward to a great year. Before cross country officially began, the coaches encouraged runners to join the team on summer runs held every weekday. These runs gave Joseph the opportunity to get to know the cross country runners.
"It's a great atmosphere to get to know kids before they get busy and stressed," she said. "It's surprising how many people I didn't know — I only knew a handful of students."
Joseph said her favorite part of cross country is meeting the runners, but a coach-athlete relationship differs from a teacher-student one.
"You see one side of the students in class and meet a different side of the students outside of school," she said. "They open up to you more."
Joseph said she has also grown closer to fellow coaches. She said the coaching style led by Huber allows everyone to be an asset.
"Huber is great at letting us do what we excel at," she said. "I'm happy to be a part of BV's cross country team."
Hornung said Joseph has a "coach-ness" to her that makes her a perfect addition to the cross country team.
"Cross country is like a family," Joseph said. "There are a lot of people there to support you and build you up."
Joseph calls herself "lucky" to be a part of the family, and said she has high hopes for the season.
"I'm hoping for a successful and healthy season for everyone from varsity to C-team," Joseph said.