Coaching the Competition: Blue Valley teachers coach for rival EKL schools; students, faculty share mixed emotions
Matt Shipley
The 2013 Blue Valley varsity baseball team had one thing on their mind: State.
The jitters set in as the State semifinals game began. After many tiresome innings, BV dropped the game to BV West, ending their dreams of winning State.
Walking back to the dugout, the BV players turned around to see the West team celebrating in the middle of the field. Amongst them was BV math teacher and football coach Matt Shipley.
Shipley doubles as an assistant varsity baseball coach for BV West, mainly coaching the pitchers.
He has worked at BV and West for seven years.
"When I got a job [at BV], there were no baseball openings," he said. "I got the job at BV, and I wasn't already working at West. But once I got the job here, I went over to West because Coach [Bill] McDonald was my baseball coach. He told me they had an opening, and he hired me over there."
Shipley said the faculty members he coaches against are OK with his situation because they're all good friends.
"It's definitely weird, but I'm used to it," he said. "I figure it's all on good competition, especially since it's an EKL school. I'm happy for them when they win, but I definitely had mixed emotions when West beat BV in the State semifinals this year."
Shipley said transitioning from BV to West during baseball season can be a struggle.
"It's pretty hard to get over to West during the season unless I get out of here right before the buses leave at 3 o'clock," he said. "It's especially hard to work with students during the spring. I usually just work with them in the morning."
Shipley said he cheers for BV in every other sport, but he said seeing athletes he coaches in class is an unusual feeling.
"It's a little weird," he said. "It's kind of fun knowing the different personalities on the teams we play before we play them because I have a lot of the athletes in class. If we lose on a certain day, the kids always say something and give me a little crap about it the next day, especially since I coach some of the guys in football here. The way you relate to kids is definitely similar, whether I coach or teach them."
Adam Bien
A Blue Valley wide receiver runs out of bounds after making a catch from the quarterback.
After handing the ball to the referee, the athlete notices one thing — BV swimming coach and history teacher Adam Bien coaching the wide receivers and defensive backs of the BV Northwest football team.
Bien has been an assistant varsity football coach at Northwest for three years but has only taught at BV for two.
He said he cheers for both schools, but he sticks to whatever sport is in season.
"Right now, I'll be cheering for [the Northwest] football team, but when we get back to the winter seasons, I'll be a full-on BV fan and coach," he said. "Then, I'm back to cheering on our team, but I always support both teams. [The Northwest coaches] gave me a shot to coach football at Northwest, so I kind of felt obligated toward coaching over there, even though I work here."
Bien said some of the Northwest coaches give him grief about coaching at BV.
He said his students think it's different how he coaches at a competing school.
"Some of the football coaches here think I'm spying on them or something," he said. "I have juniors in my classes, and I can usually pick up which ones are the football players. We berate each other all the time, but it's usually just playful back-and-forth with all the kids. We don't have any big issues until it comes to the BV vs. Northwest game. I think, now with my career at Northwest, they are 2-1 against BV. We won last year and lost by one point the year before."
Bien said the hardest thing is beating the BV traffic to get to Northwest in time for practice at 3:15 p.m.
"I either get out of here right after school and get to practice on time, or, because everyone knows BV traffic is ridiculous, I will usually have to wait to leave until 3:15," he said. "The [football] boys start stretching at 3:15 — practice doesn't really start until 3:30, so they don't really need me until then. It's really not that big of a deal, but they are flexible at Northwest because they know I work out-of-building. There are other coaches at Northwest that can handle any problems that arise until I get there."
Even though he is constantly busy after school, Bien said making time to work with students isn't an issue.
"I make sure to emphasize to my students that I am three-season coach, but there are so many opportunities here at BV to get that extra help," he said. "I get here every day at 7 [a.m.], so kids can come in here if they need any help. I also pull kids into my plan period, and I have kids come in during TCB, also. During swim season, I typically have kids come down to take tests at the pool."
Bien said the good thing about coaching swimming and football is how diverse the sports and athletes are.
"I just deal with different kind of athletes, but it isn't that difficult transitioning from coaching football to coaching swimming," he said. "Being a head coach, I think it's important to work in the building, so I can see my athletes one-on-one on a daily basis."
Bien said the transition between football playoffs and the beginning of boys swim season can be difficult.
"Last year, Northwest made it to the playoffs, so I basically just had a weekend break between football and swimming," he said. "I'm young, so I'm used to it now. I think that when I get older, it might be tough, but you just have to do what you have to do."
Bien said he uses many of the same coaching techniques in football as he does in swimming.
"We talk a lot about leadership and character and how those aspects are universal in all sports," he said. "I really push the same ideals and coaching philosophies behind both sports. Obviously, the training is going to be different, but I think the coaching principles are the same for most sports. My philosophy has always been that if you're a good coach, you can coach any sport."
Raise Your Voice: What is your opinion on teachers coaching varsity sports at rivalry schools?
 "They're traitors because they act like they're loyal to our school, but then they go and compete against us and try to beat us," football player senior Blake Freeman said.
 "I think that [Blue Valley Northwest football coach and BV social studies teacher Adam Bien] needs to leave Northwest behind and join the big boys," football player senior Noah Martin said.
About the Writer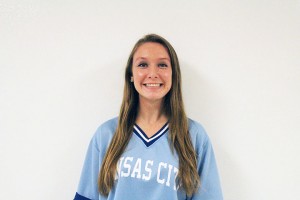 Meghan Kennedy, Staff Writer
This is senior Meghan Kennedy's third year on the Tiger Print staff. She is a staff writer who loves writing anything about sports. Outside of newspaper,...