Acing the ACT
Senior achieves perfect ACT score, shares academic advice
For most students, school is a place where they're trying to stay on top of their schedules.
Constantly stressing about AP classes and the big tests coming up.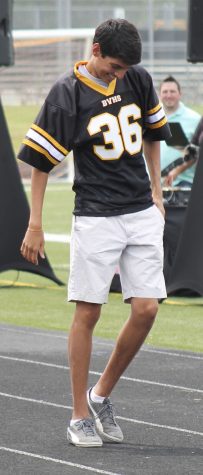 The ACT — also known as the ticket to college.
Sports, clubs and extracurriculars.
These things on top of each other can weigh a person down.
However, one student maintains a 4.62 GPA, got a perfect score on the ACT and still has time to be involved in his school.
Senior Arjun Prakash said he is focused on the big picture of his future. He recently scored a perfect 36 on his ACT, something only less than half of a percent of test-takers achieve. Prakash said the types of classes he has taken helped him
prepare for the standardized test.
"I started studying three to four weeks ahead of time, but the reason I didn't start well in advance is because I had been studying for the SAT," he said. "[The ACT and SAT are] pretty similar in the amount of work you have to put in. The ACT/SAT class at school is a good idea, but since it didn't fit into my schedule, I didn't end up [taking] it."
Prakash said the secret to his success was practice tests.
"I took about one [practice test] a weekend, and right before the test, I was on summer break, which made studying easier," he said. "In total, I took about seven to ten practice tests before the actual ACT, and that helped me a lot."
Walking away from the test, Prakash said he knew he had scored fairly high.
"I was expecting to get between 34 [and] 36 because that was the score I was getting on practice tests," he said. "I knew if I would have gotten a 34, it would've been because I made simple mistakes here and there."
Prakash said his biggest academic inspiration is his parents.
"My parents are first-generation immigrants, so the entire reason they came here was to allow my brother and me to have better opportunities in our educations," he said. "Education is something that's valued in my culture, and it's valued in my family as well."
Prakash's Tips for
Academic Success:
Tip #1: Get your work done.
"Don't put anything off," Prakash said. "You're going to have to do it eventually, so you might as well finish it and get it done when it's assigned."
Tip #2: Don't sweat the small stuff.
"I know people who obsess over the details of an assignment that is worth maybe 20 points," Prakash said. "If you can put in about ten minutes doing an assignment or put in an hour doing the same assignment — getting the same grade, of course — then why waste the time? If it's a major project, then, obviously, it requires effort, but I see no point i
n spending unnecessary amounts of time on things that should take minimal time."
Tip #3: Take breaks.
"Talking to my family, watching TV, having free time [or] just taking a break from studying [helps]," Prakash said. "Looking at the same material for two or two and a half hours is not going help me learn it faster. I like taking a break and then coming back to it."
Tip #4: Use ACT practice tests.
"They have an ACT practice test that's free in the office that you could pick up. You can [also] get the red book — the official ACT manual, which has three tests in it — and I also had the Princeton review book which had another three [practice tests]."
Prakash's
Schedule:
1. Symphonic Marching Band
2. Advanced Debate/Forensics
3. Gifted Education/AP U.S. Government and Politics
4. Honors Multivariable Calculus
5. AP Physics 1
6. AP Spanish Language
7. AP Literature