Picture Perfect: Student opts to have friend take her senior portraits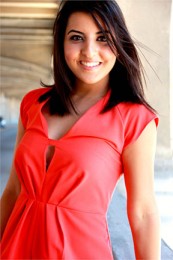 Senior pictures.
For some, these words evoke excitement for a day filled with makeup, hairstyling and modeling new outfits.
But for others, these words represent a time of stress, awkward poses and expensive payments to a professional photographer.
After her original plans fell through, senior Kyana Tehrani avoided the hassle of senior pictures by having her friend take them.
"Initially, I was going to have [senior pictures] done by a professional," Tehrani said. "But [my parents and I] went into consultations with the professionals, and all of them were booked until after the senior ad [due] date."
When Tehrani discussed the horror of senior pictures with her friend, senior Delilah Hsu, Hsu offered to take them for her.
Hsu has a photography background, having taken Digital Imaging, Photography I and Photography II.
"It didn't matter to me if I got them done with a professional or a friend," Tehrani said. "So, it ended up being cheaper and more efficient to get [pictures] done with a friend."
Despite not getting professional pictures, Tehrani said she still received the complete senior picture experience.
Tehrani said she even enjoyed the same preparation routine as those who purchased professional pictures.
"My mom and I went out, and we bought some really cute outfits," Tehrani said. "I had some things from my closet, and I just put them together. Also, the day of my senior pictures, I went out and got my hair and makeup done."
Because of Hsu's photography background, Tehrani said she expected professional-looking pictures. To obtain a photo quality similar to that of a professional, Hsu used a Canon EOS 60D digital camera.
"There was pressure because [Tehrani and her family] had expectations of it being professional," Hsu said.
On the day of the photo session, Tehrani and Hsu drove around Kansas City looking for photo- worthy backgrounds. When they found a spot they liked, they stopped and took pictures.
"We went to a bunch of places [in downtown Kansas City], but some of the places were sketchy," Hsu said. "[If we were to do this again] we might change the location because we got lost."
In addition to a location change, Hsu and Tehrani said they would change the time of day the photoshoot took place.
"I would do it earlier in the morning because it was so hot," Tehrani said. "We had to go to McDonald's and buy water."
Although the location and weather weren't ideal, Tehrani said her expectations of professional senior pictures were met with Hsu behind the camera.
"If I could describe it in one word, it would be 'fun,'" Tehrani said. "It was really comfortable because Delilah is one of my close friends, so we just had a lot of fun doing it."
Because of the success of Tehrani's photo session, Hsu said more of her friends have asked her to photograph their senior pictures. Hsu took Aviane Zamudio's pictures and plans to take Natalie Romo's photos also.
Hsu said when searching for a photographer for senior pictures, consulting a friend is the way to go.
"It's more fun taking [them] with a friend," Hsu said. "You're more relaxed and comfortable. With a professional, it might be awkward. Plus, it's really expensive for senior pictures, and for a friend, you take [them] for free."
Tehrani said she is happy with her decision to have Hsu take her senior pictures.
"They're just as good as the professional pictures, and it was not expensive at all," Tehrani said. "I love my pictures."