Different Building, Different Learning: CAPS programs result in hands-on experiences, real-life projects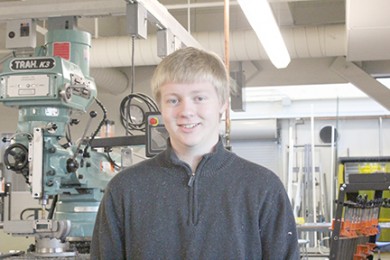 Corey Hettinger — Lending a Hand
While taking Computer Integrated Manufacturing and Digital Electronics at CAPS last year, senior Corey Hettinger worked on a more personal project — creating a prosthetic hand for his little sister by using 3D-printing technology.
Hettinger's sister, Maggie, who is a second grader at Stanley Elementary, was born with only a partial wrist.
Hettinger said he brought the project to CAPS by talking to his instructor about it.
"He went with it, saw it as a valuable project to work on," he said. "I got a lot of help from him."
The project started at the beginning of last school year.
"I just discovered what people have made using a 3D printer, and I wanted to try to make [a prosthetic] that would work," he said. "It took forever."
The prosthetic hand was finished by the end of second semester.
"I was finally able to attach all the pieces to the thermoplastic mold that was formed around her arm," he said. "I finally got all that put together and got it working."
Hettinger said although the building team was himself, CAPS Instructor Keith Manbeck and his father, other CAPS students assisted them.
"I had quite a bit of help from some of the health-related strands from a more human aspect of 'Is the hand going to harm the skin after it rubs up against her arm a certain amount?'" he said. "They were thinking ahead and [thought of] different ways we could make it more comfortable and easy to use."
Hettinger said he faced obstacles while constructing the hand.
"One [challenge] was communicating with one of the contacts that CAPS has for prosthetics," he said. "I didn't know where he was after weeks and weeks of not hearing back from him. I finally found out he [had] been in Russia for a while. Eventually, [I] had a meeting, and he didn't show a lot of interest."
Hettinger said even though others have used 3D printing to create similar prosthetics, the project was still one-of-a-kind.
"It's so unique because you have to put it together yourself," he said. "You're not just printing it out and [getting] what you need. You have to try several times because the printer has issues, which is frustrating. Sometimes, plastic pieces break. Customizing it to fit her arm specifically [was] really challenging."
Hettinger said the prosthetic hand has impacted how his sister is seen in public.
"Instead of people looking at her and staring at her not having a hand and thinking, 'That's weird,' they see her with a mechanical hand and think that it's really cool," he said. "That's a big thing for her in how people that don't already know her view her."
Adam Houghton — The CAPS Junior
Junior Adam Houghton said he had to make sacrifices to take CAPS.
"As a junior, it is hard to be in CAPS," he said. "I couldn't go to the Homecoming parade and some other after-school activities or take all of the classes at Blue Valley that I wanted to, but other than that, it's not a super big deal. After fourth hour, I feel kind of burnt out, so CAPS is really relieving. I have no idea how I'm going to deal with seven hours next year. It's going to be hard."
Houghton is currently in the Veterinary Medicine strand.
"In this course, we do three full weeks of shadowing at vet clinics, and we also visit a lot of farms and ranches," he said. "Sometimes we bring in our own animals. I brought kittens into school once, and my teacher has brought in dogs."
He said although he has completed many different activities at CAPS and has liked all of them, he definitely has a favorite.
"I brought a litter of four kittens in and gave a presentation about them," he said. "They were in a little play area, and I had people come and practice vet techniques on them."
Houghton said decisions about his future have been influenced by CAPS.
"I haven't finished the class yet, so I don't know what all of it entails, but I have a pretty good idea of what being a vet looks like, and that's really important to me," he said. "We've also done college research [at CAPS], so it's helped me narrow down a list of college choices."
After researching colleges with Veterinary Medicine programs, Houghton said his dream school is Cornell University.
"I would love to go to Cornell, but that's an Ivy League school with the best vet program in the nation," he said. "So, it would definitely be hard to get in."
Houghton shared tips for students interested in potentially taking Veterinary Medicine at CAPS.
"If you're going to take Veterinary Medicine, be prepared to touch dirty animals and not get grossed out by it," he said. "Just learn a lot, and take in all the information that you can to see if it's the right career path for you."
Connor Mohar — The Foodie
Senior Connor Mohar said he chose the CAPS Global Food Industries program because the class combines his multiple interests.
"It puts together food, business and science — all good things," Mohar said. "I entered it focusing more on the business side of it because I was in the Global Business class last year. Of course, I love food — who doesn't? It kind of put three things together that I really enjoyed."
The Global Food Industries class works with food in varying forms.
"It's a food survey class that hits topics from marketing to distribution," Mohar said. "Basically from farm to fork — that's how we describe it. Everything in between. We learn properties of food — sometimes food from the molecular level. [On] food safety, we work with specific people who are in that business."
The class starts with structural learning, then fills the rest of the week with focus on real world applications, including cooking or baking. This year, the class is writing a paper on food security and attempting to create a new food product.
"We're researching trends and, specifically, breakfast foods because they're very popular," Mohar said. "We're trying to market that and figure out what we're [going] to create."
Mohar is the only Blue Valley student in his class, with one student being home-schooled and the remaining three students attending different high schools. However, he said he enjoys his diverse classmates.
"It's a great experience to be put in an environment where you're working with kids who have different personalities," he said. "We all add a certain key factor to the project, so we have different opinions to make it better."
Mohar said learning about food impacted how he approached food in his own life.
"I really eat anything," Mohar said. "But when we talked to multiple nutritionists, it definitely did open my eyes to focusing on how health really affects you."
Mohar said he chose CAPS due to the atmosphere.
"I did CAPS last year, and it's an amazing program," he said. "There's nothing like it. lt's not like sitting in a classroom all day being lectured by teachers with [students] sitting behind you messing around. You're surrounded by [students] who have a passion for what you have a passion for, and you're set in an environment where you're going to succeed no matter what."
The real-world experience was another contributing factor for Mohar, he said.
"It helped me narrow down what I want to do, being in a business class," he said. "[I] definitely [wanted to] get my name out there because you do a lot with people who actually work in the real world. It's very nice to have that type of experience because it helps you figure out what you want to do."
Chloe Ortbals — The Double-Science CAPS Student
Senior Chloe Ortbals said taking CAPS her junior and senior years was her plan since freshman year.
"It just seemed like too good of an opportunity to pass up because I learned of these types of things that [students] were doing, and I said 'I want to do that,'" she said. "And, I knew I wanted to kind of get out of the regular high school classroom."
Ortbals was in the Bioscience program last year and is currently in the Foundations of Medicine program.
"Basically, they're two different types of health science," she said. "Last year was a lot more on the molecular level. This year is more [about] human health."
She said taking two different CAPS programs has given her a more balanced science background for a future career in pharmaceutical medicine.
"Now, I know biology on both sides of the spectrum," Ortbals said. "I think that can only help me."
Ortbals is currently working on a capstone project that will be completed by the end of the semester.
"The flyer [I'm making] will inform people about the dangers of expired medications in their homes, how to dispose of them [and] where to dispose of them," she said. "I'm going to try and contact all five Blue Valley high schools and ask them if they could put it in their weekly newsletter to parents to get the information out."
After studying the protein LKB1 throughout last year, Ortbals went to the American Society for Biochemistry and Molecular Biology's annual conference in San Diego, California.
"[My group] created an abstract, which is basically a little summary about the protein," she said. "Then, we created a poster about this protein. We had to include the function, the structure and basically how it affects our lives. We presented our poster to graduate students [and] to researchers. It was a great way to get our name out there."
Through her work at CAPS last year, Ortbals interned at KU Medical Center last semester and over the summer.
"At my internship, one of my favorite experiments we did was a drug resistance assay," she said. "I worked with colon cancer, and we wanted to see if bitter melon could help get rid of colon cancer. We put the colon cancer cells in petri dishes and tested to see if the bitter melon could actually affect it. You have to do the experiment multiple times to see if it works. My mentor did it the first time, and he let me do it three more times after that. The process to it was very neat."
Ortbals said she enjoys the structure of CAPS.
"The project-based learning is very beneficial," she said. "You learn how to work as a team and come up with some really good projects. They make you think rather than just sitting and taking notes."