You Can't Stop the Beat: Band student discusses drumline dedication, group dynamic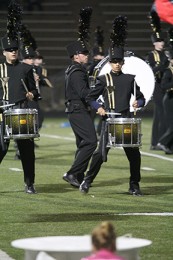 Above the flutes, clarinets, trumpets, trombones and other instruments, the booming music from the Blue Valley drumline resonates throughout the gym for every assembly.
Junior R.C. Shaffer, a first-year member of drumline, said participation requires an enormous time commitment both in and out of school.
"Before school we have three weeks of band camp for percussionists," Shaffer said. "It's nine hours a day. We don't practice on weekends."
Shaffer said when school resumes, drumline holds practices outside of the normal school day.
"During school, we have an hour-and-a-half or an hour and 45 minutes on Monday, Tuesday [and] Friday," Shaffer said. "Then, we have block day for Wednesday and three hours on Thursday night. Then, every other Saturday we have four hours [of rehearsal]."
Drumline consists of three types of drums — bass, snare and tenor — with each instrument contributing a unique sound.
"The basses have different notes — the bigger the drum, the lower the note," Shaffer said. "The snares are more rhythm, and the tenors add a volume to the sound."
Shaffer said there is one overall drumline section leader, junior Kyle Dlugopolski. Then, there are section leaders for each category of drums.
"I was a tenor this year, so [junior] Jack Weber was our section leader," Shaffer said. "I listened to him and did what he asked, and we cooperated. We're kind of a close-knit family."
Shaffer said the drumline season coincides with the marching band season and lasts for two to three months while drumline attends the same competitions as the BV band.
"We only have four competitions that we go to, and then we have assemblies that are more for show," Shaffer said. "Really, our season is around the four competitions."
Shaffer said he enjoys competing because of the performing aspect.
"I like when we travel to competitions, mostly because it's exciting," Shaffer said. "It's kind of a thrill having other people watch you perform something you've worked hard on for two or three months."
Despite all of the effort exerted on drumline, Shaffer said drumline members consider each other family.
"It's kind of like a family tree," Shaffer said. "[Drumline instructor Alex] Vallar once called us his kids because he thinks of us like that. Sometimes we get on his nerves, but it's just a family dynamic."