Reporting on the Reporters
Behind the scenes look at newspaper processes revealed
There is a strict rule in journalism at Blue Valley that states staff of the Tiger Print cannot be interviewed for their own stories.
This protects articles from inter-staff bias, but it also hides the thoughts and processes of the people who work so hard to build the paper that is published and distributed to the students once a month.
As a solution to this small injustice, only staffers were interviewed in this article… about the staffers.
Staff Writer:
As a staff writer for the Tiger Print, junior Grace Gearon said she is responsible for a part of the bulk of what the newspaper is known for – the writing.
"I get assigned a story and then I have to decide who I want to interview and then after I get quotes from people I have to make a story about the people I've interviewed," Gearon said.
Gearon said she got into newspaper through a different class, which is required before newspaper can be taken.
"I took journalism first semester and I really liked designing the pages and I needed another art credit," Gearon said. "I talked to Mrs. Huss and she let me join."
Despite her position as a writer, Gearon said her favorite part of the process of actually creating the newspaper has nothing to do with writing at all.
"I like designing the page the story's going to be on and seeing the page in the newspaper that gets handed out to everyone," Gearon said.
She liked it so much, in fact, that she plans to continue on in newspaper next year.
"I am taking for one semester next year, and I'm going to be a staff writer again," Gearon said.
However, there were aspects Gearon was not so fond of.
"I don't like brainstorming my ideas. I feel like most of my ideas are stupid –they sound really cool to me, but thinking about the actual story as more than just a concept is less interesting," Gearon said.
Out of the stories she has written, Gearon said her favorite has been a feature on graduate Alex Frasier.
"It was the first story that I wrote completely on my own and designed the page by myself. To see the outcome of all my hard work was really nice."
Editor:
"I've always really liked to write, so that started it."
Senior Sally Cochran has been an active participant in BV's newspaper since her sophomore year of high school.
"I started out as a staff writer, and I would write a story every month," Cochran said. "The next year I was news editor, which basically meant that, in addition to writing my story for every issue, I was also in charge of editing every news story on Sunday before we edited them in class. I applied to be editor in chief then and was selected."
Despite her drastic rise in status, Cochran said her favorite part of being on staff for the Tiger Print has remained the same since the beginning.
"My favorite part of the job is definitely seeing everyone's reactions on paper day," Cochran said. "Hearing that someone really enjoyed a story or finding out what people found interesting really makes me happy because people are reading it and enjoying the publication."
However, there are struggles to the process that Cochran, as the editor of the entire paper, must face.
"It's really hard when you care a lot about the publication and there are people who are on staff just because they had a free hour and so they obviously don't care as much as you do," Cochran said. "You're just trying to spread your enthusiasm to them, so in a way it is also a really fulfilling thing when you finally get that person to be really interested in a story."
Cochran said her role on staff has contrastingly changed a lot since her sophomore year, though.
"Probably my most significant contribution is just the little things: making sure people get their stuff done, and tying up all the little loose ends," Cochran said. "Basically, a lot of the contributions I make you can't recognize in the actual product, but you would notice if they hadn't been done."
Photographer:
One unfortunately often overlooked aspect of the newspaper happens to be the photos on each and every page of every single issue. Though the recognition is modest, senior Molly Johnson said she likes seeing her work in the finished product of the paper.
"I like when the paper finally comes out and you see your photos in there with your name," Johnson said. "It just shows that you're doing something and going somewhere."
Johnson said even though many people under-appreciate her photos, she still feels a sense of accomplishment at seeing students looking at her pictures in the Tiger Print.
"I think photos really capture the readers' attention," Johnson said. "Without photos, the paper would just be a bunch of text and kind of dull. We wouldn't have so many readers."
Johnson said she got interested in joining newspaper primarily because she already enjoyed taking pictures on her own.
"I was interested in photography and someone told me that I could just do photography and I wouldn't have to write any stories," Johnsons said. "I wanted to learn more."
Photographers play an active role in the building of the newspaper, and they have to be very active in order to complete their roles properly.
"We have to go attend events and take pictures at them for whatever we're covering," Johnson said. "We sometimes do photo pages or, for Tiger Turf, we do a picture of every sport for that season. As a photo editor, I have to make sure people are doing their stuff, and we are responsible for giving people their captions. That means we have to find out background information and get a quote."
About the Contributors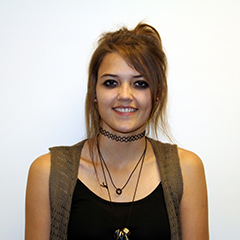 Makayla Nicholis, Staff Writer
Makayla Nicholis is a staff writer for "The Tiger Print." She has been on staff for three years, and placed in regionals and State two of the three....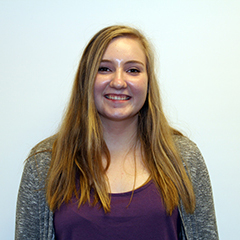 Lauren Huesers, Staff Writer
Lauren Huesers is a staff writer for "The Tiger Print." This is her second year on staff. Outside of school, Lauren enjoys reading and watching movies....