A new kind of band camp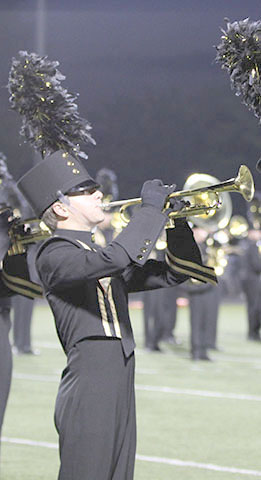 Their steps are second-nature.
The music comes as easily as breathing.
Making complex designs on the field, these performers have perfected their routine down to every little step.
Known as the Major Leagues for marching bands, Drum Corps International (DCI) is the highest, most competitive marching band organization for high school and college students.
There are several corps stationed throughout the United States, each one with a various amounts of players, performances and instruments.
After auditioning in November for the Colts, a DCI band located in Iowa, senior Luke Conners was one of 150 students offered a place in its summer program.
"Every prospective member is reviewed by the staff throughout the weekend to see if they can meet the requirements of being a member," Conners said. "Obviously this requires a baseline proficiency on the instrument, which was demonstrated in an individual audition, but the more important matter was demonstrating a positive attitude, driven personality, responsiveness to teaching and the sort of thing that makes a person not necessarily a stronger musician technically, but certainly a more effective member of a team."
Conners said DCI, while similar to Blue Valley's marching band, has its own distinctive characteristics.
"It's much more complex and much higher level," he said. "If there was a professional marching band, it would be Drum Corps."
The practice time DCI requires is another aspect Conners said is taken to the next level.
"At Drum Corps, we have four weeks of spring training," he said. "Those are 14-hour rehearsal days, seven days a week at a much faster, much more intense pace. The music is significantly more challenging, and the movement aspect is incomparable [to BV's marching band]. When we might march a total of two to three miles in a longer band rehearsal, we're averaging easily 10-15 [miles] in a single day of Drum Corps."
Conners said he has taken several steps to prepare for these practices.
"Marching band in and of itself has helped greatly," he said. "I've been playing more, just practicing outside of school. I also signed up for track to get in shape. Track has helped because I've been building endurance physically, which is a very strong aspect of Drum Corps when you're marching 14 hours a day for a month."
Despite the potential struggles, Conners said he is optimistic about the experience.
"It's going to be the hardest thing I've done by far," he said. "Hopefully, I'm going to have an amazing time just wearing myself into the ground every day. When you get 150 people who are all so dedicated to the same activity, it's really a magical experience to see what you can produce as a team."
Conners said he looks forward to the real-life experience of DCI.
"When you are on the road for three months, you are basically on your own," Conners said. "It's a really maturing experience because people learn to deal with the greatest hardships they've ever faced — the most stress, both physical and mental."
Conners said he encourages everyone to come to the Colts' performance in Olathe on July 1.
"It'd be a great opportunity for people who are looking to learn more about the activity or anyone who wants to see some incredible performances," he said. "It's a whole world that's rife with opportunities for exploration — find something you like, and run with it."