Summer Spotlight
BV students share unique summer experiences
Karla Prats: Cuba
On June 4, junior Karla Prats embarked on a two week trip to Cuba with her family to visit relatives.
This was Prats' second visit to Cuba.
"I went the same exact time for the same exact length of time last year with my dad," Prats said. "I went with my entire family [this year]."
Prats was previously able to travel to communist-controlled Cuba because her mother and grandparents were born there.
"Americans aren't really allowed to go to Cuba unless you're of Cuban descent, like [my family and me]," Prats said. "That's why last year we were able to go because if we weren't Cuban, we wouldn't have been able to."
Prats said she and her family stayed with relatives in a poor town called Los Arabos.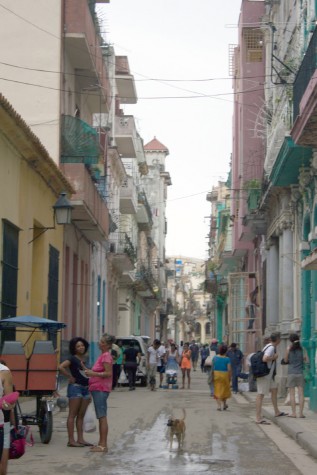 "Our whole family – all 6 of us – were staying in one tiny room with two mattresses on the floor," Prats said.
Prats said a typical day in Cuba began with an early wakeup call followed by road-tripping for an hour or two to meet family or explore the country.
"[My favorite part of the trip] was when we went to this naturous town called Las Terrazas and we ziplined through mountains and over rivers," Prats said. "Then, we went to another place called Soroa and we climbed a waterfall."
Ziplining was an adventure Prats has always wanted to try, and she said it was her favorite part of the trip.
"We did 6 different sets," Prats said. "We were going right through the mountains and there were trees everywhere. There were two times where we almost hit a tree because it's hard to steer the zipline."
Prats said Cubans eat a lot of meat, rice and beans, avocados and tomatoes. However, certain meat is restricted in the country.
"The only meat they eat is pork and chicken," Prats said. "If you're not in a tourist-populated town, you're not allowed to eat steak. If you get caught eating cow, you get thrown in jail."
Prats said she would return to Cuba in a split second if she could.
"I definitely miss my family and the friends that I made there because no one here is that outgoing and weird as they were," Prats said. "I also miss being around nature because here there's always telephone poles or lights and stores everywhere. Over there, it's like going back in time because there's not all of this technology."
Prats said her experience in Cuba was eye-opening and she admired the simplicity of the Cuban's lives and happiness.
"I knew [Cuba] was going to be really poor, and they don't have phones or TVs," Prats said. "But the most surprising thing for me was how happy and content they are. They knew that they didn't have a lot. We went there with our iPhones and iPads and big cameras, and they didn't care. They were still so happy with their lives."
Zaynab Jamil: Pakistan
While most Blue Valley students adjusted to a summer schedule of working or watching Netflix, senior Zaynab Jamil and her family boarded a plane to Karachi, Pakistan for a five-week trip.
"We went to visit family because a lot of them live there," she said. "The last time we were able to go was 2010, so it had been a while."
Jamil said although this was her sixth trip to Pakistan, she was still apprehensive about traveling to the country.
"I was scared of how Pakistan is portrayed in the media because the news is always reporting things about kidnapping and robbers," Jamil said. "I was also nervous to see all of my family after so long [and] wondering if they would still be the same."
She said her worries were calmed when she arrived at her grandpa's house and realized she was not in dange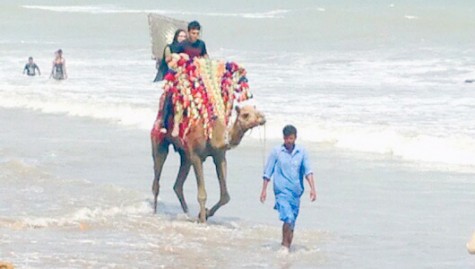 r.
"Thankfully, it was nothing like it seemed in the news," she said. "We would go out late at night and it would be perfectly fine. We never heard or saw anything dangerous."
According to Jamil, typical day in Pakistan consisted of hanging out with cousins and family in addition to different activities.
"We loved going on the roof in the evening because the weather would be really nice," Jamil said. "We went out for ice cream a lot because it was very hot. We had a lot of family to visit, so when we weren't doing that, we were making plans to go out to eat, shop or [visit] the beach."
Jamil said she loved spending time with her family and partaking in activities that are both typical and atypical to vacations in the United States.
"[Pakistan has] lots of small stores right next to each other similar to things you would see in California," she said. "They also had camels at the beach, and I loved riding them."
One of the most rewarding parts of the trip was experiencing Ramadan in Pakistan, Jamil said.
"It was touching to see people putting out tons of food at the mosques and in the middle of the streets for people to break their fast with," she said. "They would also hand out boxes to people in their cars if they were late going home so they could break their fast."
In Pakistan, there are always people out, and Jamil said she misses the energy that encompassed the country.
"I miss the loud environment over there," she said. "I really miss being able to go on the roof because it's not something that we get to do over here. I also miss having the house full with all of our cousins."
Lance Jewett: Theatre in the Park
Pursuing his love of performing this summer, senior Lance Jewett auditioned for Theatre in the Park's "West Side Story" production and landed the role of Action, which he said came with new challenges.
"I played Action, the hot-headed Jet of the gang," he said. "For those who know me, I am in no way hot-headed or violent, so getting into that character was difficult. But once I got a hold of it, it was almost therapeutic to perform with, as I was able to express a side of myself I'd never tapped into before."
Jewett said an audience comprised mostly of strangers adds a new level that isn't found in Blue Valley's theater.
"The energy is so much better than at high school shows, and it's easier to perform all out when you don't know 98% of the people watching you perform," he said. "You lose the stress of judgement and give it your all, which almost always makes your performance better."
Jewett said the best part of this summer's performance came from both his performance and the audience's involvement.
"My favorite moment was the feeling of pure joy when we'd finished singing my character's big, vaudeville song 'Gee, Officer Krupke' on the night when we had over 2,000 audience members," Jewett said. "The energy from that crowd was palpable and electric, and it brought everyone's performance to entirely different and better level than it had been previously. Believe it or not, the more you invest yourself as an audience member for shows, the better the actors will perform and more enjoyment you will get out of the performance."
While there were adults performing alongside him, Jewett said "West Side Story"was similar to BV's shows.
"A lot more high school-aged kids are in the productions than you'd think, so the actors are similar in age, just like in high school shows," he said. "Also, we rehearse for fairly long periods of time, just like high school shows."
The time commitment was something Jewett said took up not as much of his summer as he thought.
"They actually were pretty flexible up until tech week at the Park," he said. "Rehearsals were usually four hours Sunday through Thursday. We rehearsed and performed for a little over a month and a half, which — for a large production show like that — isn't much of a time commitment at all."
Having the shows over the summer gives the performers an edge, Jewett said.
"Every actor in the show is committed to the show and to performing with this group of people," he said. "They audition because they love performance, not the people they perform with. Also, since the productions occur over the summer, everyone is much more focused because the students don't have school work to worry about. Finally, the performances are just bigger and better. With opportunity to acquire talent from all over the area to perform for crowds upwards of 2,000 sometimes, the production qualities are high."