Dancing Past Barriers
Male student breaks gender stereotype, joins female-dominated activity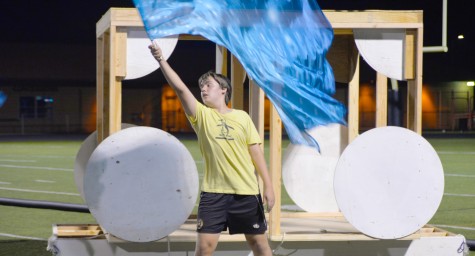 Since early history, dance has been a large part of numerous cultures throughout the world. From ancient Egyptian entertainment in 1400 B.C. to the Italian arts during the Renaissance, dance has been enjoyed by men and women alike for many centuries.
So why is it that dance is so often deemed a sport exclusive to girls?
Junior Tristan Jacobson has broken down this gender barrier at Blue Valley. Jacobson is the only boy of 33 dancers in BV's color guard and dance team.
"I wanted to be more involved in extracurricular activities, and I wanted to do more dancing," Jacobson said. "That's why I auditioned."
Jacobson said his favorite part — besides dancing — is the team's tight bond.
"We're all just a big family," he said. "We got each others' backs. If we have a bad day at practice then we cheer each other up. We're all a team — gender doesn't really matter. Anyone can join."
Jacobson said he was nervous when he first auditioned for the team.
"There [were] a lot of good dancers and I was [thinking], 'I don't stand a chance against them,'" he said. "I just kind of went for it."
Even now that he's made the team, Jacobson said he still can sometimes feel intimidated by other dancers.
"There [are] amazing dancers on the team, so you feel compelled to push yourself, and you want to get better," he said. "[In practice] everyone goes to their full extent, and you can see who can do this better, who can do that better. Once we start working we all have to be at the same [level]. I think people have high expectations for me because I made the team, so people expect me to be a good dancer, which isn't always true."
Jacobson's teammate, sophomore Halle Arnold said she enjoys having Jacobson on the team.
"It's really fun [dancing with him, but] it's not any different than dancing with my other friends," Arnold said. "It's just like dancing with the team."
Arnold said she doesn't think gender should matter in sports.
"A girl could do anything a guy could do," Arnold said. "Dance could be for anyone if people applied themselves to it."
Even though he is treated the same as everyone else on the team, Jacobson said he is still aware of the stereotypes.
"Often male dancers are considered very homosexual, but it isn't always the case," he said. "If you like dancing it's not because you're gay or very girly — you just like it. I can guarantee you for the guys doing male-dominated sports, like football, if they tried out dancing they would be done. It's a tough sport — big time."
Arnold said she agrees there is little difference in the physicality between female-dominated sports and male-dominated sports.
"Band camp is so intense," Arnold said. "If I counted it all up, we do over 10 hours [of practice] a week — it is unbelievably intense. We practice just as much as any other sport does."
Jacobson said the only thing influencing involvement in sports is what the person enjoys.
"It doesn't really matter what gender you are if you like doing something," Jacobson said. "You shouldn't hold back just because you're the only other person