Graduating High School as a College Sophomore
Student challenges himself by taking seven college courses
As many students have seen on twitter, Jacob Lester is taking 7 Advanced Placement classes this semester. These rigorous courses introduce students to college level academics, and they also offer an opportunity for students to get a mass amount of college credit.
Senior Jacob Lester is enrolled in his thirteenth AP class at BV, seven of which he is taking this year.
"I wanted to make myself as competitive for college scholarships as possible," Lester said.
Lester is already considering colleges with strong doctor and veterinarian programs, and hoping to finish this year with 63 college credit hours — approximately two years of college.
"I really like Washington University in St. Louis and Duke [University], but I am also applying to University of Oklahoma and K-State [University]," Lester said.
Even though he has seven or eight hours of homework a night, Lester said he is very involved in numerous extracurricular activities at the school.
"I'm on the debate team, the varsity track team, I'm the executive secretary of student council, I'm in the National Spanish, Science and History Honor Society, I'm in book club and in science outreach," Lester said.
In his limited amount of free time, he said he enjoys running, hanging out with friends and watching Grey's Anatomy.
Lester said he is very appreciative of his educational career so far. He said he is constantly challenging himself and trying to excel in what he is good at.
"I have always been good at school, so I figured I might as well play to my strengths for college applications and try to do the best at what I am good at," Lester said.
Lester said sometimes he wishes he could spend more time doing other things rather than just studying.
Lester advises students planning on taking multiple AP classes to know that before you sign up for AP classes there is an opportunity cost for every hour you spend studying you could be doing something else.
"A lot of times you're made to think that studying is the best and most productive thing you could be doing with your time, but sometimes hanging out with friends or getting a job is a better overall experience for your personal growth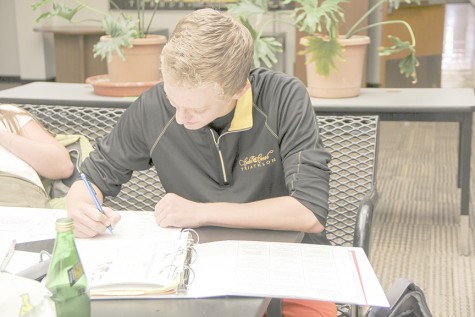 ," Lester said.