Under the Stage Lights
Freshman finds passion for singing
Lauren Brucker, a freshman at Blue Valley, has had a passion for singing ever since age 7.
She said her earliest memory of singing was making her mom stand back to back with her while she sang "This is Me" by Demi Lovato.
Her first real performance, though, was in the Prairie Star Elementary fifth grade talent show, she said.
"I sang 'Beauty and the Beast.' It was a horrible performance though, It was good at the time, but looking back it's very embarrassing" Brucker said.
Now Brucker sings outside of school, and she said it accounts for most of her after school activities.
"I'm in a band, I'm in an acapella group and I also do vocal lessons," Brucker said. "I spend a lot of time practicing — probably around two hours every night."
Debra Brucker, Lauren's mom, said Lauren doesn't do any sports, but singing is her sport.
"You go to practice a few times a week, then you have a game, or, in Lauren's case, a performance on the weekend," Debra said.
Performances are about every weekend and it takes up to five hours of practice every week to prepare for them, she mostly performs alternative and classic rock, Lauren said.
"Sometimes we have two or three new songs I have to memorize which takes lots of time," Lauren said. "Other times they are all old songs so I spend hardly any time practicing."
Although Lauren puts hours of effort into singing a week school work is still a priority.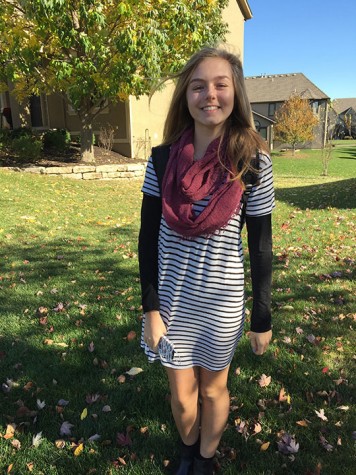 "I always put school first, no matter what. Even if I'm busy with lessons or practice, I always tell myself school comes first," Lauren said.
With all of the effort she puts into singing, Debra said she has improved lots over the past five years.
"I've seen her grow a lot as a singer," Debra said. "Her voice has grown and she's a stronger singer than she used to be."
Performing for people has come more natural to Lauren as she continues to sing at events, she said.
"As a mom, I can tell she isn't as nervous to put herself out there to sing in front of people," Debra said. "She used to be terrified to sing in front of people, but now it's a breeze."
By putting herself out there through singing, Lauren said she has noticed improvements in school and socially.
"I've found it easier to memorize definitions and certain bits of information because I've learned memorization strategies by having to memorize lyrics," Lauren said.
Talking to new people and making friends has come easier to Lauren after getting used to performing in front of people, she said.
"With performing every weekend for people it's not as scary for me to put myself out there and make new friends and talk to adults," Lauren said.
After five years of singing and performing for people, Lauren said she only has one piece of advice for her younger self.
"Don't be as stressed for performances — you'll do fine," Lauren said. "Take a deep breath and knock 'em dead."