Coffee Shop Dreams
Student publishes poetry book
Sophomore Carley Sherer made her dreams come true late December of last year. She is now a published author.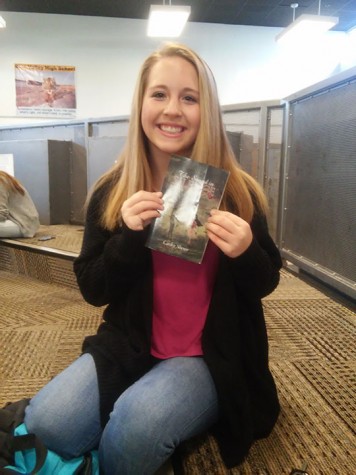 "I just collected my best poems from fourth grade and put them together," Sherer said. "I mean most of the poems that actually made it were written during the last year, but that's how it was made."
Her book is called "The Sound in Silence." Sherer said there's poems about everything, but her personal favorite is one that can be found on Page 4 of her book. It is called "People".

"I started writing in fourth grade because we were assigned a writing project but after that I just kept writing," Sherer said. "It became my favorite pass time and I was just writing constantly."
Sherer said she would write about anything around her even if it seemed random, including a poem about a tree because it has a special meaning to her — even if others didn't understand why. She wrote poems everywhere in the notes on her phone, when she was bored in class or in her notebook at home.
"The publisher that my book was published through was 'Author's House'"
Author's House is a publishing company who's dedicated in finding young new voices in literature to publish, Sherer said.
Sherer said they really don't interfere and try to change your poems at all they d
o is edit them for grammar and suggest changes in format of the book. They also helped make the cover and deal with the distribution, she said.
Sherer said the publisher's main goal is to really help you grow and they encourage you every way that they can.
One of Sherer's friends sophomore Jennifer Wallis was the artist behind the book.
Wallis said she was very excited about being able to help her friend out and
even happier to have get to do something with her art work.        "Carley asked me to draw a picture for her book, and I was glad to do it because now not only does she have some poems out there but I also got some of my drawings out there," Wallis said.

Sherer's book is available in multiple forms.
"My book can be found in Barnes and Nobles in stores or online, or you can download it digitally using a download card." said Sherer
Sherer said the book has been pretty successful so far. Sherer said lots of her friends, neighbors and teachers have bought it. The book was also added to the library of her middle school. She said she is very grateful for all the support people have shown for her book.
"I hope Carley continues writing in the future," said Wallis. "She's actually really good at writing poetry, and I can't wait to see what she writes in the future."