Serving Our Nation
3 BV students commit to post-graduation military plans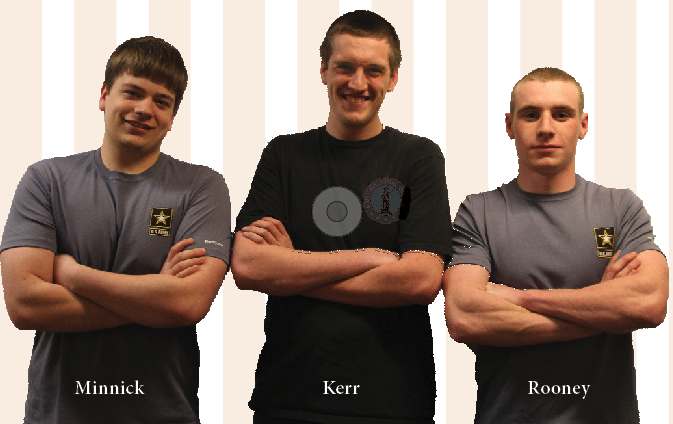 Wake up — 0430.
Start training — 0500.
Breakfast  — 0600.
Continue training — 0630.
Basic Combat Training (BCT) is a program required for United States Army and National Guard members — meant to train civilians to become soldiers in 10 weeks.
After graduation, three Blue Valley seniors will begin their journey in the U.S. military. Andrew Kerr is enlisted in the Army National Guard. Christian Minnick and Alex Rooney are enlisted in the Army.
"Basic Training is going to be rough," Rooney said. "They break you down, and they build you back up the way they want to."
The daily schedule in BCT includes both physically and mentally strenuous exercises, Kerr said.
"Physical fitness will be the most difficult part for me," Kerr said. "I'm not really a runner, and running two miles is as rough as it is when we work out. It'll probably be the hardest part for me."
The next step after basic training is Advanced Individual Training (AIT), which gives the soldiers hands-on training for their personal career path within the military.
"After BCT, I [will] go to AIT for 13-14 weeks," Kerr said. "I'll leave in June to Fort Jackson in South Carolina, and then I go to Fort Lee in Virginia where they'll teach me the mechanics. I won't come back until late November."
Though not a common post-graduation plan for BV students, Kerr said he always knew he wanted to be in the military one day.
"My family was proud of me," he said. "They had an idea that I wanted to join the military, but no one really knew it was going to be the National Guard. There were people trying to tell me what jobs to get, but I just chose the one I wanted to do."
Minnick said his decision was influenced by his two sisters who are currently in the Air Force and his grandfather who served in the Navy.
"I like the structure of it," Minnick said. "It's a day-to-day thing. You know what you're going to be doing. Whatever job you get, you'll be a professional at it. When you get out, you're promised really unique skills that will help you later on."
To make their commitment to serve official, the students had to swear-in back in January.
"I've wanted to join the military since eighth grade," Rooney said. "I wanted to feel like I was doing something productive in my life instead of sitting around in an office. I wanted to feel like I had a purpose in life, and defending the best country on Earth felt like a good route to go."
The U.S. military is split into five branches — Air Force, Army, Marine Corps, Navy and Coast Guard — which can make choosing the branch to pursue difficult, Minnick said.
"I interviewed with all of the recruiters," Minnick said. "I decided Army was the best branch because they let you choose your MLS — which is your job — whereas the other ones pick for you."
According to GoArmy.com, while serving either on active duty or in the Army Reserve, soldiers get the opportunity to go to college.
"I chose the Army because [it] has the best educational benefits," Rooney said. "[They also have] the most bases around the world, so I can visit a lot of different countries."
Kerr said his decision to join the National Guard was last-minute.
"I either wanted to be infantry in the Army or a rifleman in the Marine Corps," he said. "I ended up talking to someone who set me up with a career, and I just went with it. I went down and I filled out all the paperwork, and before I knew it, I was swearing in."
After BCT and AIT, soldiers are required to serve four years in the military and will have the choice of whether they want to continue after that.
"I will possibly serve my entire career," Kerr said. "I may go until I retire."
Although Minnick is excited about his future in the military, he said he isn't sure how long he plans to serve.
"[I'm most looking forward to] when I get out of the Army and I'll be able to have a $100,000-a-year job, and it will be smooth-sailing from there," he said. "They'll give me all the training. I plan on getting my bachelor's [degree] eventually for something to do with computers."
Kerr said he expects the military to have great impacts on his life.
"From joining the National Guard, I'll have a lot better discipline than what I've had through high school," he said. "Mostly, I'm looking forward to getting out of town."