Foreign Exchange
Students describe transition of new school year
August means going back to the stressful and overwhelming atmosphere of school, but
imagine coming in from overseas.
"My sister was an exchange student, and she told me it would be a good experience for me, so I wanted to try it," Slovakian exchange student Robert Gaffy said.
Although it is a phenomenal opportunity, most attributes of the schedule between countries is very different, making it a less than effortless transition, these students describe.
"In Slovakia we don't have seven classes, every day we have different classes, with 13 or 14 subjects. Some days I would have math, some days I would have biology, or physics, and
then we had social subjects," Gaffy said.
Gaffy agrees that not only would it be an unfamiliar schedule, but the curriculum is quite dissimilar as well.
"The most difficult class has been U.S. History, because I didn't study U.S. History in Brazil, I just studied the basic Civil War. I also have to read a lot, and sometimes the English is difficult for me," Brazilian exchange student Lìvia Sobral said.
Outside of class, there is the social aspect, which is also a distress to foreign exchange
students.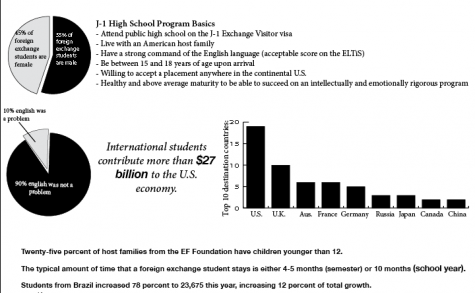 "It is difficult [finding and meeting new friends] because it is hard to find people like me. It is a different language and everything is new," Gaffy said.
While it may be trying to form relationships at school, they already feel comfortable with their host families.
"My host family is amazing, and to me, it's like they are my second family," Sobral said.
Though it may be difficult, overall foreign exchange is such a rewarding opportunity, foreign exchange students imply.
"This will give me a lot of benefits in my life, and I can already see that," Sobral said.