Following in the Footsteps
BV student learns from trainer, discovers passion for sports medicine
Most people interested in sports play them. A few others manage sports they don't play. Senior Molly Franko, however, does more to stay a part of the Tiger sports family.
She started managing the football team her freshman year and the wrestling team when she was a sophomore.
"I've had multiple concussions, so I'm not allowed to play sports anymore," she said. "I love sports in general, so I've tried to get involved as much as possible."
After managing both football and wrestling, Franko began to assist the Blue Valley athletic trainer, Caitlin Truhe.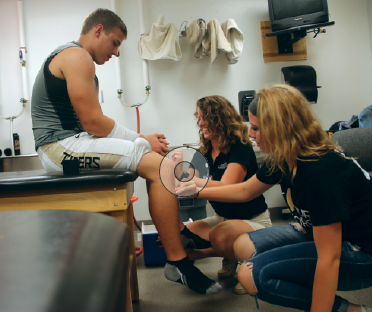 "I was always intrigued by what she was doing," Franko said. "I asked if I could follow her around just to watch — and then the hours kept getting longer every time I shadowed her. I've enjoyed it a lot."
Although Franko isn't allowed to do complex tasks like taping ankles and assessing for injuries, Truhe said Franko's been a major asset in the training room.
"She helps a lot with the organization and coordination of athletes coming in," Truhe said. "She's able to [do] first aid  like covering a turf burn or blisters. If I have someone that needs tape, or if I need to evaluate an injury, she's available to cycle through the kids that are pretty fast as far as treatment goes. It definitely helps to speed things up."
Franko said she enjoys seeing the players progress in their healing.
"We've had multiple ACL tears, and I like watching the rehab process," she said. "They go from not being able to put any weight on the leg to running and sprinting like they used to before they got hurt."
Once she started working with Truhe, Franko said she discovered what she wanted to pursue as a career.
"I want to be an athletic trainer, a nurse or a physical therapist — something in the health field," she said. "I'm looking more into athletic training as my first career choice because I like all the things I could do with it, whether it's working with a school or working with a hospital or private practice. I'm really excited for where it can lead."