Last-Minute Concert
The Best Way to End Summer
As they made their way to the Sprint Center on Aug. 6, 2016, sophomores Allie Ament and Carly Vandervoort could not contain their excitement. They were about to see one of their favorite celebrities perform — Nick Jonas.
Ament and Vandervoort's love for Nick Jonas began long before his newest album "Last Year was Complicated" was released.
"It all started back when the Jonas Brothers were a thing in 2007." Vandervoort said.
Ament listened to Nick Jonas's album all summer long so when she found out he was coming to Kansas City for his tour, she knew she had to get her hands on some tickets.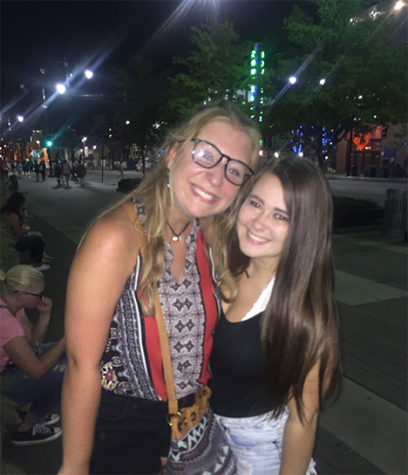 "This summer all of the sudden, I went from 'I love Nick Jonas' to 'I LOVE Nick Jonas.' Ament said. It was just an instant love after his album was released this summer."
The girls bought their tickets right before the concert which made the whole experience even more of a thrill for them.
"It was last minute, I saw that he was coming here and doing a duo with Demi Lovato, and I wasn't a big fan of Demi Lovato, but I loved [Jonas]. Literally, two days before the concert I got tickets with my friend." Ament said.
Since the concert was less than a week before school started, Vandervoort said it was the perfect way to end off summer.
"I did not know anything about the concert. Vandervoort said. I didn't know the setlist. I didn't know who was opening or anything. It was just really fun because it was so last-minute."
Ament has a love for Nick Jonas like no other, and she could not believe she was going to see him live.
"When I got to the Sprint Center, I kept getting more excited because I was in the same building as Nick Jonas," Ament said.
During the concert, Ament's head was spinning with emotion. After listening to his album and becoming a huge fan of him over the summer, she was speechless when she finally got to see him perform live.
"I wanted to cry so much. My voice was burning, but I just kept screaming my heart out. One hundred emotions were coming out of me at once, I couldn't contain myself," Ament said.
Vandervoort enjoyed the concert just as much as Ament did. They said they were the only ones in their section who loved it so much.
"Carly and I were screaming our voices out — we were dying. We were the only two standing up and we were probably the furthest away," Ament said.
The concert was such an amazing experience for the both of them. They both said it was the perfect way to end off the summer.
"Go listen to his album right now because you will know what I was feeling. The album changed everything for me," Ament said.