Highs and Lows
Beloved BV assistant band director relocates to Olathe West
After seven years of dedication to the district as Blue Valley's assistant band director, Carol Lowman announced to the faculty and students on Monday, Oct. 10, that this will be her last year at the school since she has recently accepted the head director position at the new Olathe West High School.
After the band's typical morning rehearsal, they were not expecting to hear the news that their beloved staff member was leaving after this school year.
"When I told the students, I was pretty emotional," Lowman said.
The teacher has been in the Blue Valley district since she graduated college, and she has definitely made her mark here. The news left a bittersweet taste in the students' mouths on that chilly Monday morning.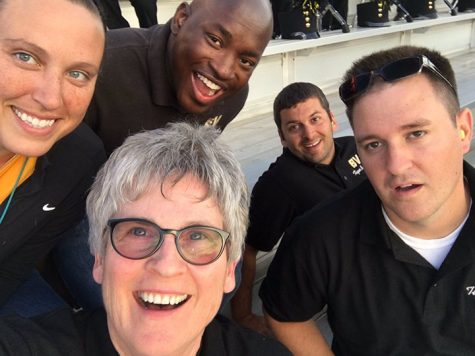 "I've had Mrs. Lowman as a teacher since fifth grade — she was the one who taught me how to play the clarinet," junior Janie Nugent said.
It's no secret that this is a hard transition for both Lowman and her students.
"I've built some pretty good relationships with students. I really care about them, and I know that even though I'm leaving a position, I feel like the students in the band have understood the opportunity," Lowman said.
Although a sad time for all, it is also an exciting time for the budding band director. The new position has opened many exciting jobs for Lowman, leaving her excited to start this new journey.  
"There are a lot of behind the scenes things that I need to do this year. I need to pick and arrange the fight song, pick and arrange the alma mater, design and order the band uniforms — those take months to make because we'll need to order 200 of them. There are things that we take for granted that we have."
The position also has a great amount of potential for Lowman. She is able to build the program from scratch which is an amazing opportunity.
"The school population will be small to start with, so the band program will also reflect those numbers, so I'll be able to grow into the position with the band. It's kind of a perfect fit. I want to provide the students with the highest quality music performances possible and really evaluate what that student population in that community wants in a band and help provide that really strong school community and support from the band. I also would like to have a really well-rounded program. I want to see lots of band kids involved in lots of other activities than band to provide the opportunity for them to do marching band, but also do the other activities that they're passionate about," said Lowman.  
Although this is a large task to take on, Lowman is not alone in the process. She has had great mentors and assistants at her side to make the transition run smoothly.
"I'm supposed to have myself an assistant band director during the first year, and I'll work with the dance team and color guard, which is combined in the Olathe schools. So there'll be three of us to start the marching band during the first year. [Also a big help in this process,] Ms. Bear [the head band director at Blue Valley] has just been wonderful through this whole thing. She's just been a wonderful supporter all seven years I've been here" Lowman said.
Lowman's kind heart and resonant teaching style will definitely be missed by Blue Valley students, but this new opportunity is sure to be a great catalyst for her career.  
"I just want to thank all of the students and staff at Blue Valley. I couldn't have asked for a better first seven years of teaching. I've learned so much, and I really will miss Blue Valley," Lowman said.