When in France
Freshman travels across the Atlantic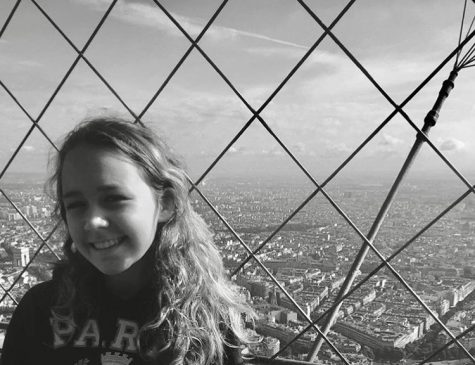 Among the few people that get the luxury of experiencing new cultures and traveling around the world, one of them is freshman Rachel Summers, who had the opportunity to visit France in the summer of 2016.
"We traveled the eastern side of France to a few different towns, then to the south of France, then up to the pre-historic caves in more central France [and] then lastly to Paris," Summers said.
She said she and her grandparents, who she traveled with, felt right at home as they stayed with her grandmother's former host family when she was a foreign exchange.
"My stepmom spent time in southern France while she was in high school. My dad and my step mom want to give each of the kids the European experience when they are old enough to appreciate it," Rachel's mom, Lisa Summers said.
Although Lisa was excited about having her daughter experience another country for the first time, it was also nerve-wracking, especially because of the increasing terrorist attacks happening across the globe, she said.
"It was difficult letting Rachel go out of the country," Lisa said. "Less than two weeks after Rachel had returned from her trip, the tragedy in Nimes happened.  Rachel and her grandparents had been at the exact spot where it happened."
Nevertheless, Rachel felt comfortable with traveling so far away because of the welcoming people she met in France, even though she said they were a friendlier than she had expected.
"Almost everyone we met was very kind, but everyone there is much more touchy," Rachel said. "Even if you just met someone, they'll still immediately hug you, and give you a cheek to cheek kiss."
Not only were the people in France a little different, so was the food.
"There was a lot more seafood, and we ate lots of bread and jams. My favorite, though, was the ravioli in Paris," Rachel said.
Rachel and Lisa both said no matter where you travel, it is never the same as being home with your family.
"I missed my family very much," Rachel said. It was very difficult to spend two weeks without any contact."
Her family back at home felt the same.
"The house was quiet and somewhat lonely with Rachel gone," Lisa said.  "We spent the two weeks feeling like something was missing. All of us would talk about Rachel daily and imagine what she was doing."
Even though she missed her family, Rachel said she was still very grateful for the opportunity to take this trip and hopes to do it again.
"It was a very cool experience," Rachel said. "I met a lot of people and learned a ton of stuff about how other people interact in a different country and I would love to go back one day."