Kneeding all hands on deck
BV freshman has a dislocated knee and missing fingers
Imagine what it'd be like to be missing two fingers. On top of that, imagine having knee problems and being unable to do certain activities or attend events. For freshman Mukta Gotoor, these two things are a part of her day-to-day life.
"My knee and fingers have been like this since I was young," Gotoor said.
She uses her right hand for most tasks since it's not missing any fingers.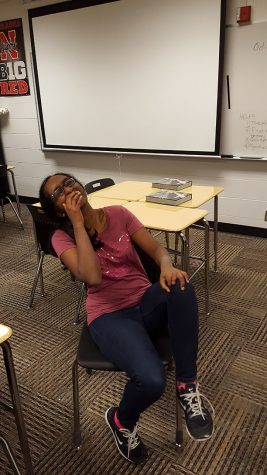 "Doing two-handed tasks was hard when I was in kindergarten, but now it's easier," Gotoor said.
In regards to her knee, she isn't able to play any sports and the activities she can participate in are limited.
"It's hard to walk properly — I limp most of the time," Gotoor said.
Additionally, she said very few people are rude to her about her fingers. She said it made her really insecure at first, but she's moved on from what they said.
"They said, 'You're an alien — get away from me,'" Gotoor said.
Fortunately, she said all of her friends respect her situation and that she's happy to have their support and appreciation.
"I didn't think anything other of her," freshman Brooke Rupp said. "She's still Mukta and her missing two fingers doesn't change that."
The two met earlier this year and have become good friends since. Rupp said she noticed Gotoor's fingers were missing within the first two weeks of school.
"I just thought that it was probably something she was born with, or she had a major accident," Rupp said.
Gotoor said she was born without her two fingers and her knee dislocated in kindergarten. These two things don't prevent her from doing some of the things that she's interested in.
"Something I can do is swim. While I can't do breaststroke, I can do all of the others, and it's a lot of fun. My favorite part of summer is swimming and hanging with my friends," Gotoor said.Gotoor said she felt limited on what she is capable of doing, but she doesn't mind. She's happy to spend time with her friends.
"Mukta is super cool. I love her humor and personality," Rupp said.
The two friends agreed that they're happy they met each other and that they get along really well. Despite the differences that Gotoor has from most people, she said she isn't bugged by it. She said she is content with who she is.
"I really don't care anymore. I used to care a lot in kindergarten, but I moved on. I have met some really great friends, and they give me support and I really appreciate it," Gotoor said.