Running With a Family
Cross Country runners talk team atmosphere
The atmosphere is happy and loud, and the house is filled with people. In fact, it's hard for the newest people coming down to the basement to find a seat. Laughter is heard as sophomores Ellie Lewis and Cali Coffman react to a joke.
It is the last team dinner of the season, a season in which Eleanor Dobbles said Lewis was a mentor for her. Lewis and Dobbles had run together all through summer training and during some practices during the season as well.
Dobbles elaborates on her point about Lewis being her mentor, saying.
"Ellie Lewis [is a mentor for me] because she was kind of the first friend I made on cross country, and she was older so she really helped me get through the experience."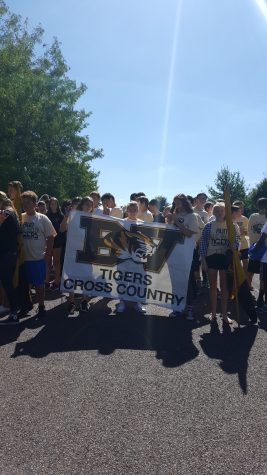 Lewis said she didn't even know she had been mentoring many students saying she only ran with them.
"I don't think I had a mentor," Lewis said, "I guess I could say [I mentored] Katie [Boehringer]."
Dobbles jumped into the conversation in an exclamation, letting Lewis know that she had had an impact.
Dobbles said, "You mentored me!"
Just as Dobbles said Lewis mentored her, Lewis described how the the closeness within the team is such a big part of what she loves about the sport.
"I feel like cross country has a more family atmosphere compared to other sports." said Lewis "Even though it's a lot of people, we're very close. That's a lot of people to depend on — we're sort of like a big family, instead of other sports where you're competitive."
The next day, the runners were at the Blue Valley cross country course getting ready
to run the final race of the season — and for some, their final race in high school. The C-Team girls run to the football field and stretch there to warm-up, talking with seniors Lexi Gahagan and Sofia O'Neil about their cross country experience. O' Neil said it's not just about running, but enjoying yourself with your teammates.
Lewis had similar thoughts on her experience, talking about when she first joined the team.
"I didn't like running at all before I came to cross country — I hated it," said Lewis. "But the family and positive atmosphere made me enjoy running so much more."
Dobbles said the people on the team can actually improve your performance.
"I feel like during races," said Dobbles, "when all the rest of the team is cheering for me — it makes me feel a lot better and want to try harder."
Lewis also said the people were a big part of what helped her get through the first tough part of the season.
"The people were amazing, and they're super nice. Everyone's willing to help you in anyway they can," said Lewis, "It's really tough at first but once you get that attitude that you really need to work hard, you can get it."