One in 1,325,000,000
BV student starts her YouTube career as a sophomore
YouTube: the proprietary name of the video-sharing website. According to Statistic Brain, approximately 1.325 trillion people are actively using YouTube. One of these users is sophomore Sabine Fardoun. Fardoun uses YouTube as a way to express her creativity.
"[YouTube] allows you to be more creative," Fardoun said. "It's fun being able to do something that not everyone else is doing."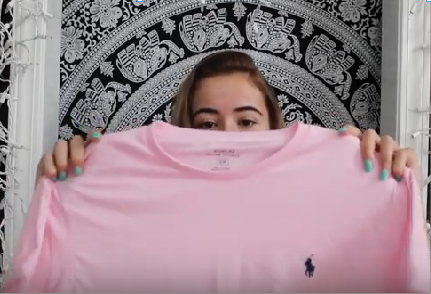 Fardoun started uploading videos to her YouTube channel in 2012 with her friends.
Uploading a video takes more effort than people assume, Fardoun said.
"[It's hard] trying to find time to film while I'm still in school," she said.
Fardoun films a video once every week, and finds time to edit and upload her content by Sunday afternoon.
"It's difficult [to edit] when you're trying to get the video perfect each time," she said.
However, in the end, all of the work that gets put into each and every video is worth it, Fardoun said.
"There's no better feeling than being able to watch the final outcome online, where I know my subscribers are watching as well," she said.
Multiple students around Blue Valley have approached Fardoun, asking to be apart of one of her videos.
"Sabine and I are really good friends," sophomore Carly Kaster said. "When she first started her channel, she would always ask me to be in her videos, but I was so shy back then. Now, whenever she tells me that she has to film, I immediately ask, 'Can I be in it with you?'"
Kaster and Fardoun have known each other since elementary school, and according to Kaster, she always knew that Sabine was going to be successful.
"She has that creative mindset, which makes everything she does seem so cool and flawless," Kaster said, "She's fashionable and stylish, too, so if she doesn't pursue YouTube, I know she'll be successful in the fashion industry."
Another reason Faroun is so good at what she does is because some of the creators on YouTube tend to play a character, Kaster said.
"[That's why] Sabine is such a successful YouTuber. She's genuine," Kaster said. "Whatever she says is herself talking. She doesn't say what she knows people will want to hear, and her personality doesn't change in front of the camera."
Fardoun wouldn't be where she is today without her inspiration
"Bethany Mota (famous YouTuber) is a huge inspiration to me, because she made YouTube videos that were true to herself, and that inspired me to do the same," Fardoun said.