Working Hard for Dreams to Come True
Zach Marchesano pushes himself to become professional soccer player
It's an early Saturday morning, the sun is peeking up over the field and there is a slight breeze in the air. The goalkeeper rushes onto the field to start warming up, and the team shortly follows. It's an early morning game, but the team is wide awake and ready to win.
One of these players is Zach Marchesano, a freshman at Blue Valley and goalkeeper of many teams. Whether it be futsal, indoor soccer or outdoor soccer, he tries his best to help the team win. He is also already committed to playing professionally, but first let's go back to when his obsession started.
Marchesano started playing recreational soccer in second grade. He said felt
like he "needed something else to do so [he] went ahead and thought [he'd] give it a try and really enjoyed it."
After playing on a recreational team for two years, he decided that he enjoyed soccer so much that he wanted to go competitive with it and tried out for Sporting Blue Valley. He ended up making the last team.
"I was OK with making the last team when I first tried out because it was understandable," Marchesano said. "I had never played competitive before and didn't really know what it was going to be like, so I wasn't super upset about it."
For Marchesano it wasn't always success, there were even times when he felt like giving up and quitting.
"When I was in sixth grade I got the meanest and worst coach ever," Marchesano said. "He pushed us way too hard and never focused on the good  always the bad. I was planning to quit that year because it was so bad."
Although, Marchesano didn't end up quitting because one of the other coaches told him he had potential and skill. He was also told that soccer could carry him a long way and he should stick with it.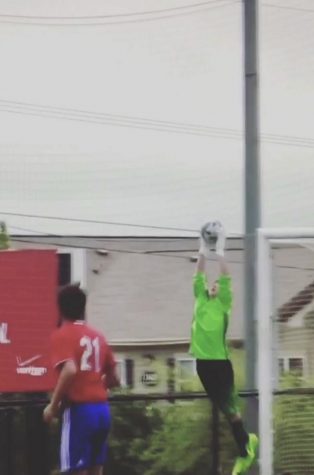 Over the next two years he moved up to the third division and this year, 2017, he is in the top division in his club, Sporting Blue Valley. He also played for the schools soccer team and currently plays for the Olympic Development Program (ODP), in the district pool.
"ODP is for outdoor soccer and takes me step by step from the district pool, to the State team, to the Regional team, and then to the National team," Marchesano said.
Marchesano also has some connections with the Sporting KC Developmental Academy team. He was invited and recommended to show himself in front of the club so they could see what he can do and maybe ask him to join their team.
With all of the hard work he puts into the games, practices and getting better overall, he needs people who support him through it all, and in his opinion, his mom is his greatest supporter.
"I have a lot of people who support me and assist me with what I do in soccer," Marchesano said. "I'd probably say my mom supports me most by helping me get my gear, getting me to practice and games and helping me get in front of other coaches."
Marchesano also said his mom helps him by videotaping every save or goal he lets in so he can see what he could have done differently to save it.
Jennifer Marchesano, Zach Marchesano's mom, said Zach's soccer career has affected her life by making things a lot busier, with practices and games. It also has affected her life in that it makes her determined to succeed at what she sets her mind to because he does.
She's super proud that her son has found something that he is passionate about and invested in. She said she thinks everyone should have something that they love was much as Zach loves soccer.
"Soccer is such a big part of me," Zach said. "There aren't that many other things that I feel this passionate about and want to do. Soccer is the only thing that allows me to show my unique skills and abilities and I would feel like a part of me is missing without it."