Shaping lives through fellowship
Senior leads youth in a Bible study
Most people don't think that they can shape lives, but that is exactly what senior Isaiah Euler is doing. It may not be global or groundbreaking, but he is impacting some people around him by leading a boys Bible study that meets once a month. He mentors freshmen from Blue Valley and BV Northwest. All of them attend Grace Church.
Euler was in a Bible study before he led one.
"I had wanted to start a Bible Study since freshman year," Euler said. "But [ Zach Nelson and I] started it sophomore year."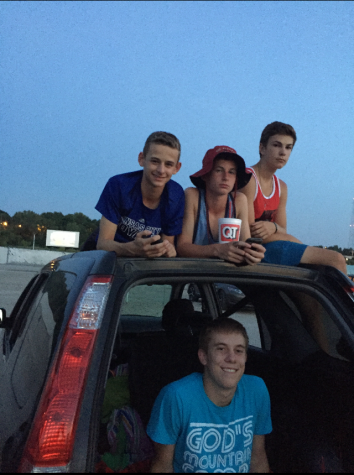 Leading a Bible study means discipling students and teaching them knowledge about what the Christian faith is. Euler does this to model what Jesus Christ did for his own disciples.
"Discipleship is modeled after how Jesus Christ lived and had his own 12 that he discipled and sent into the world go and make disciples of all nations," Euler said.
Euler is part of the disciple cycle, where upperclassmen lead younger students through the Bible.
"My own Bible Study leader was big on the disciple cycle where discipleship continues to be passed down and really wanted us to start our own discipleship group to continue the disciple cycle," Euler said. "Even my own Bible study leader still comes back from college to meet with us sometimes, and I still really look up to him so I want that for the guys that I disciple as well."
Euler He has realized what an important role fellowship is in the growing of his life. He also knows that it helps the people he is mentoring.
"I have learned a lot particularly about the importance of fellowship and accountability and what a big role that can play in everyone's life," Euler said.
One of the students he mentors is freshman Jason Berg, who mentioned how this group has changed him and brought him nearer to God and everyone else.
"It has brought me closer to God and it has brought me closer to the other people in my Bible study," Berg said.
Euler said while there isn't exactly pressure to leading these boys, there is a sense that he needs to be a good role model, or as he said it, "to set a Christ like example."
Euler succeeds in this task when we hear from Berg who said, "He makes me a better person to others because the way he treats others really rubs off on me and I aim to be like him."
It is a fun environment when they play, but they reel it in while having their discussion. Euler knows that it is good to have fun, but that they also need to be serious when needed.
"We start and finish playing some games so it can be a little crazy then but when we are actually meeting it usually more calm and serious. It definitely has not always been a calm environment when we are meeting, though," Euler said.
From the eyes of a student looking at Euler, Berg said Eule
r has have great leader skills. He can lead and connect with people in the group.
"Isaiah really connects with all the people in the Bible study and he has everyone participate and finds a way to make it fun," Berg said.
Their typical meeting follows a loose time frame that includes games and meetings.
"We play games hang out and eat diner for like an hour and then we meet for about 30 to 45 minutes," Euler said. "Then we play games for the rest of the time."
There are eight students and leaders, including Nelson and himself. While there aren't as many struggles now, Euler said he had trouble getting their attention when they were younger.
"It has been challenging to demand respect particularly when the guys were in middle school and Zach and I were younger as well," Euler said.
By leading this Bible study, Euler gets some extra bonuses such as community service and recognition from colleges, but he said that is not why he does it. He does it for the students, and it is what God has called him to do.
"I can get community service for leading it but I do it because I love it and the kids I disciple," Euler said. "I also believe that it is important to have this type of fellowship because that is being obedient to God."
This leadership role has taught and affected Euler into a different person than when he first started leading and he gave the final reason why discipleship is so important to him and it is the reason why he does it.
"I have learned how to be a better and more effective leader and also the importance of leading by example, which can be hard to do." Euler said.