The Basics of Bharatanatyam
BV student partakes in Indian classical dance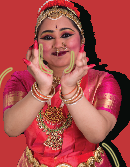 You've heard of ballet, tap-dance and tango, but have you heard of Bharatanatyam?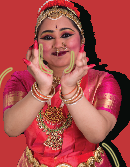 Junior Sindhu Manda shared her experience with the dance style.
Bharatanatyam, a genre of Indian classical dance, stems from Hindi spiritual ideology and religious themes. The dances feature different aspects of dance, including rhythm, emotion, and music. The dances consist of intricate hand gestures — or mudras — and facial expressions that convey the tone of the story being told. The attire, which consists of silk sarees and gold embroidery, has its own meaning and serves to enhance the experience of the audience.

"It's different from American dance because the movements are different, but there are some modern aspects of it like pointing your feet," Manda said. "There's different styles, and mine is called Thanjavur."
Manda said for most Bharatanatyam dancers, it is important to start at an early age.
"I started when I was 5 years old, my friend started when she was 4, but some people start when they're 3," Manda said. "There's other people who do it in the school, too."
Manda said because she started so early, it took her a while to find an interest in it.
"I wasn't very passionate about it until about sixth grade," Manda said. "Until then, my parents had always forced me to practice about once a week, but I [realized that I] had to keep practicing for my Arangetram."
Arangetram, which means rising or climbing, is a dancer's debut-performance that follows years of training and requires an understanding of classical dance and different aspects of dancing. Manda said that her Arangetram was in ninth grade. Since her first performance, she has been avidly dancing on the weekends.
"There's a lot of performances that I can do here in KC," Manda said. "Recently, I've been performing every weekend."
Although the dances can seem intimidating from an outside perspective, Manda said she has gotten used to the style of dance.
"It's not something that everyone knows about, but I'm really passionate about it," Manda said.Submitted by Sindhu Manda