Lending A Hand
UNICEF club helps those in need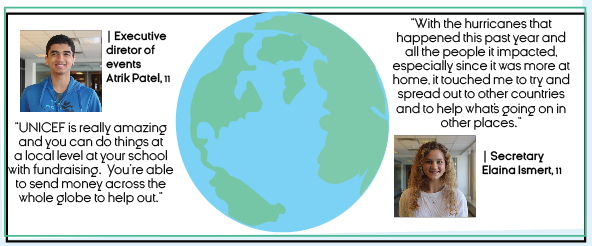 Often times while watching the news, there seems like little you can do to help those in need. Five Blue Valley juniors came together to create the UNICEF club to help solve this problem.
Vice president junior Niki Joshi said she and president junior Shreya Menon were two of the students who came up with the idea to start this club after watching the news and seeing people needing help.
"We were both looking at things that were going on in India since we have family there," Joshi said. "Children over there weren't getting a proper education. There are issues in the Middle East where children are in desperate need of food, water and clothes. Children are just not getting access to the things they need, so we wanted to be able to actually do something. We wanted to take a part of something bigger than us. We wanted to have some sort of impact on the world."
According to Joshi, the club itself is affiliated with the international UNICEF organization.
"When we set up the club we had to contact them and actually register within their database," Joshi said. "They gave us a lot of different fundraising ideas. When people from the school give us money through fundraisers, we donate the money to [UNICEF], and they distribute it to those in need."
Joshi said there's a lot that goes into creating different events.
"We have a group chat that goes off pretty much every day," Joshi said. "There's a lot of planning that happens through that. We spend about a couple hours a week catching up with each other and coming up with ideas."
Menon said the officers communicate with members at UNICEF's headquarters in New York City.
"We spend a lot of time sending emails to the administration," Menon said.
Menon said their main purpose is to do as much as they can to help.
"Our goal of this club is to aid the organization in raising money for children suffering from epidemics, violence and poverty," Menon said. "Even 90 cents can provide things such as water purifying tablets and vitamins for malnourished children."
Menon said BV students should join the club to assist others outside of their community.
"Club members get community service hours for helping out," Menon said. "It's a good thing to raise money for important issues affecting children throughout the world."
Joshi said in the club's first year, the club has been fortunate to be in a community such as Blue Valley.
"It's been successful," Joshi said. "I believe we've raised over $1,000. We're very happy with the money we raised, and we're thankful for the community we have where people are able to donate their money."