Breaking the Fifth Wall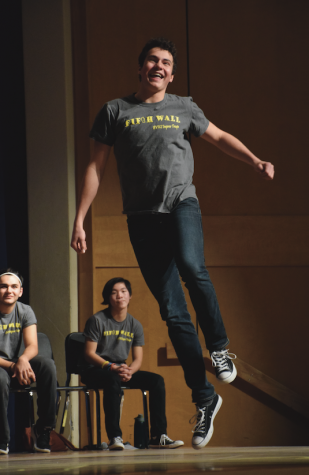 Most are familiar with theatrical productions like the fall mainstage play, musical and spring play at BV. These all have the traditional scripted lines and actions.
Although things are bound to go wrong in any production, the structure and story tends to stay the same in most plays and musicals.
Those in the group Fifth Wall, however, participate in a far different type of performance. So, what is Fifth Wall?
"Fifth Wall is a really fun [improv] group of sophomores, juniors and seniors," sophomore member Nick Mohammadi said.
Aside from games, Fifth Wall shows are completely improvised, which allows them to be spontaneous and completely unique each time.
Emcee senior Lillian Thompson said the audience provides the ideas.
"[During shows,] we'll get suggestions for a scene and the actors do whatever they can with that prompt," Thompson said. "They can take it down a certain storyline, and it's very fun."
As one of two emcees, Thompson said she takes a few suggestions and chooses which one would result in a more entertaining or energetic scene from the actors and for the audience.
"Whatever we think is successfully funny is what we use," Mohammadi said.
Thompson said plenty of things make Fifth Wall special, even the title.
"In a room, there are four walls, and the fourth wall is typically where it breaks for the audience," Thompson said. "The fifth wall is the way we get the audience involved in the scenes, because they are giving the suggestions."
Even with her accomplishments in the theater department, Thompson said she gets anxious when performing.
"Theater is such a passion of mine, but I do have stage fright," she said. "I can be a character and have no problem, but when I'm myself, I get so nervous."
She said this is one of the reasons why being an emcee on Fifth Wall is so important to her.
"It was my first real success in high school besides making it into a mainstage [performance]," Thompson said. "Fifth Wall is something I can hold on to."
Even beyond the stage, the group is very supportive of each other, Mohammadi said.
"We all have our own personalities and I don't think [there is anyone as] creative as those in [Fifth Wall]," he said. "We really grow and break stereotypes. We're just a close group of people, and no one's astray. We're all involved and there for each other."