Catching up with Collins
Freshmen have finally started getting the hang of things around Blue Valley after three busy months, although they aren't the only new ones to the building. New administrative intern Ashford Collins has made quite the first impression on Blue Valley so far. Collins joined the tiger family this fall after a switch from Santa Fe Trail Middle School in the Olathe School District. He was a sixth-grade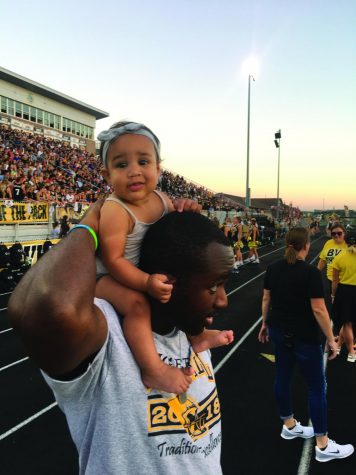 language arts teacher for six years.
"The atmosphere at Blue Valley is different from my previous school in that it is a high school, not a middle school," Collins said. "There are 1600 kids here, and I think overall there are a lot of similarities I didn't expect as far as family environment and awesome kids."
Collins admitted he has enjoyed the transition, but a new school also brings new challenges.
"The most stressful part of the transition has just been being the 'new guy' again," Collins said. "As far as students [it's difficult] not knowing, or having enough of a personal connection with the scholars."
Collins attended Mid-America Nazarene to major in Criminal Justice originally but soon decided he wanted to work one-on-one with students to get to where he is now.
Something that sets Collins apart is his obvious effort to build relationships with students at BV. He pulls students to the side in the hallway and simply asks them what their name is or what their favorite color or class is. Collins said his goal is to get to know every student personally.
"I ask them the corniest, random questions," Collins said. "It's awkward but awkward is good."
It seemed as if Collins was destined to be hired at Blue Valley.
In Collins' interview with principal Scott Bacon, the two discovered they had a previous connection — he had mentored Bacon's kids who were in middle school at the time.
"I didn't realize that until after we met," Collins said. "I knew his boys when they were in middle school before I even knew him, from the church and just hanging out and so that was a pretty cool connection."
Collins has noticed the different feeling at Blue Valley.
"I think just the rooted tradition that Blue Valley possesses," Collins said. "It's unparalleled with many high schools in the nation."