Wave Aloha
Students Prepare for Homecoming Floats
The Homecoming floats always outdo the prior year's, but the question is — how much work and planning truly goes into these floats?
This being her second year as class president, sophomore Ann Heitman said she was more than ready for the Homecoming float to be built.
"We [used] materials that are easier to take down because last year we found it an issue to get them off the float in one piece because we use them [as] decorations for Homecoming [too]," Heitman said. "We [used] stuff that's light and we can easily maneuver into the commons."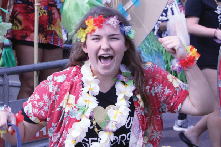 Heitman said the process of building the float takes a lot of time and thinking through.
"It's a long process of thinking where stuff is going to go, how you're going to build it and make it fit on the trailer," Heitman said. "You have to take into account that you have to fit people on it, too."
Heitman planned the song choices as she and the rest of class walk in the Homecoming parade.
"We have a playlist of Hawaiian songs that everyone knows, instead of just normal songs like we did last year," Heitman said.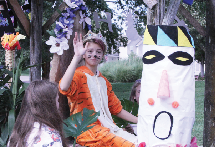 Heitman's favorite part for the Homecoming parade is to walk with her classmates and show school spirit.
"It's cool to be able to represent our class in a super fun way," Heitman said. "When you're with a bunch of your friends and people in your class are walking next to you and [showing] school spirit."
Last year, Heitman said she had a good time at the parade.
"I was super proud of what we had on our float, and I was so happy that all of my friends were walking next to it," Heitman said. "Even people I didn't know were volunteering to walk with it and we were all about just making sure we were super peppy, and it was so fun."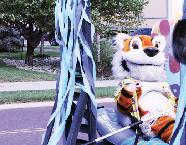 This year, Heitman said she aimed to gain the judges' attention and really impress them with the float.
"I hope it will be something that the judges say, 'I can't believe sophomores did that,'" Heitman said.
Heitman said she did not care whether or not the sophomore class would win or lose. She cared more about the connections she makes with fellow classmates building and walking with the float.
"It builds people closer together, and it's a really fun experience," Heitman said. "It's a fun thing a lot of schools don't do. It's a cool opportunity to be able to build a float and be able to say you accomplished making it."