Knocking Down the Competition
Girls bowling has high hopes for the season ahead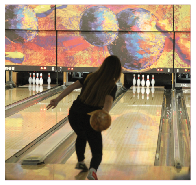 The new year is the beginning of several sport seasons, one being girls bowling. After tryouts on Dec. 5 and 6, 13 female students made the varsity or junior varsity teams.
Among them, senior Carly Kaster, returns after being on the team her freshman year.
Kaster said she had heard about girls bowling from coach Mark Mosier.
     "My friend and I were bored, so we decided to do it," Kaster said. "We thought it'd be fun."
She decided she would tryout again this year after not competing her sophomore or junior year. Kaster said of the 13 girls who made the team, one is an alternate.
     "[At tryouts,] you average your score of two games, or you can just go to one [day], she said. "Then the highest six are on varsity and the lower six make JV."
        Kaster said though tryouts are fairly laid back, Mosier does not appreciate jocular comments about the team.
"I learned not to joke about bowling," Kaster said. "Mosier takes it very seriously."
     Through her experience, Kaster has picked up some new tricks.
"Freshman year I learned about what the lines on the [bowling] lanes actually mean and how you can use them," Kaster said. "I go from one side [of the lane] to the middle."
Kaster said the team practices at Olathe Lanes East.
     "We hang out and bowl," Kaster said. "It's not too structured or anything — it's fun."
     Kaster said she likes to bowl because  she's a competitive person.
"I can be competitive, but it's still laid back, and it's not crazy hard," Kaster said. "It's just a fun experience and a good way to be involved."
     Girls bowling has a meet today and Monday at Olathe Lanes at 2:45.