Artwork Bound
Blue Valley junior shares her love for art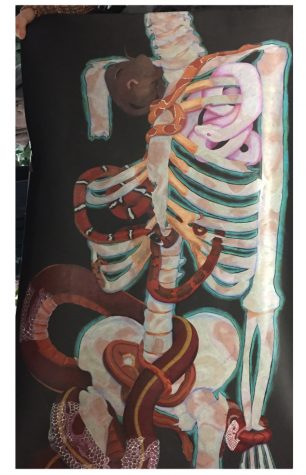 Junior Molly Grubaugh has been interested in art for her whole life and shares why she loves it so much.
"Art makes me feel calm. It's a stress reliever for me." Grubaugh says. "I've been drawing for as long as I can remember but I didn't really have a big appreciation for creating art until early eighth grade."
She has recently created two art pieces that she is proud of. Most of her artwork may take from an hour or longer. "A majority of the pieces I make take me a few minutes to sketch and maybe an hour or two to finish it, but it really depends on how much effort I want to put into it or how big the resulting product is going to be."
Last semester in Drawing II, Grubaugh came up with the idea to create an almost life-size drawing of a skeleton with snakes intertwined in it. More recently, she drew fanart of someone by using markers and colored pencils.
"I'm proud of them because I put in a lot of effort for both and I'm happy with the outcome," Grubaugh explains.
For now, she greatly enjoys making art but her plans for being involved with art in the future are not concrete.
"I would love to pursue art however I don't know how much I would make off art," she said. "I want to do art on the side or whatever I decided to do."