Row, Row, Row your Boat
Senior joins K-State rowing team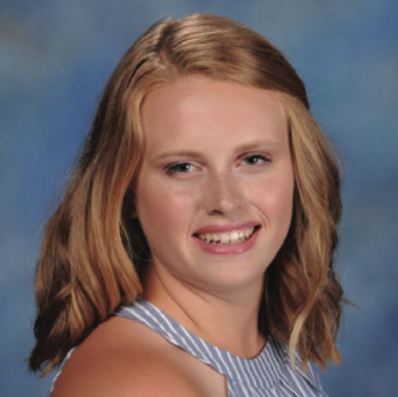 Blue Valley offers plenty of sports for student-athletes such as track and eld, soccer and base-
ball. However, moving on to
college can open up a whole new world of opportunity in the sports department.
For senior Morgan Skinner, who will attend Kansas State University next year, college will be her chance to try out a new sport — rowing.
"[One of] my dreams in life is to play a sport in college," Skinner said. "I had a lot of D-II and D-III schools looking at me for throwing
shot put and discus. Once K-State was like, 'Hey, do you want to row?' and I saw that it's a D-I school, [I figured] it'd be great to say that
I'm a D-I athlete, so that was part of it — just fulfilling that dream of
Skinner said she feels glad to have companionship with some of the people she will soon be attend- ing college with.
"I hope to room with a team- mate," Skinner said. "I don't want to put some random person through me waking up at five in the morning [for practice] when they have class at 10."
Although heading o to college can be a scary experience for some people, Skinner said she feels ready to move on from high school.
"I'm sad that I'll leave my favorite teachers, coaches [and friends,] but I think that I've left like my impact on the school of what I wanted to leave here and what I wanted to accomplish," Skinner said. "I'm OK to leave."
After attending K-State's parent meeting and introducing herself to some of the people she will be row- ing with, Skinner said she felt con dent about joining the team.
"Not only will I have this family when I get there, but [I'll
also be] staying in shape," Skinner said. "I know without athletics, I [wouldn't] go to the gym. Having someone to force me to work out [is] a good idea."