Sophomore Takeover
Typically only seniors and juniors are on the varsity team for sports, but with a positive attitude and an excellent work ethic, anything is possible as proven by the numerous sophomores on varsity teams this school year.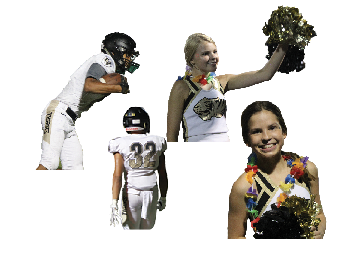 Hadley Way cheers on the varsity football players every Friday night.
"It's such a good environment," Way said. "The crowd gives off the energy and almost like an adrenaline. When I hit a solid [stunt], everyone starts cheering — my bases and all of my friends. When you make eye contact with someone, and they're cheering you on, it's exciting and fun."
Way said being kind and having good sportsmanship are important qualities for a cheerleader.
"Keeping a positive attitude in school and at practice [is needed]," Way said,  "Also coming to everything even if you feel like you don't need to be there — it's just the support [that helps]."
Way is also involved in other activities besides cheer.
"I'm involved in a lot of shows, and I'm in [choir] classes at the school," Way said, "I'm [also a] dance captain for [Classy Ladies]. I take a lot of lessons for my guitar and singing."   
Way said waiting on the side with JV is very different than being on the field with varsity.
"Last year when I was on JV, we would have games almost every day of the week and FNL [Friday Night Lights] so there was a lot [of commitments] then," Way said.
Way said she enjoys being on varsity because of the big team and the other girls in her grade.
"It's fun cheering [on varsity] because people say, 'Oh, you're a sophomore,' because sophomores usually don't make the team," Way said.
Greyson Holbert loves playing on the football team because the players have good relationships with one another. He said it is fun seeing everybody in the crowd.
"There's a lot more people that are watching you," Holbert said "I feel like it's very encouraging. It makes you want to play [better]. [During] freshman games, I feel like you're just there to play for your parents."
Not only is Holbert excited for himself about being on the team, but he said his friends are elated as well.
"[My friends] all think it's exciting that I'm playing varsity," he said. "They all like coming out to watch me play."
Holbert said he enjoys his position of running back because of the fast pace.
"If had to choose another position it would be safety," Holbert said, "I like hitting and making big plays, too."
Holbert worked hard to earn his spot on varsity during the off-season.
"I think I made varsity because of my athletic ability and my hard work," Holbert said, "I'm true to the game. I love the game."
Holbert wants to play Division-I football in college by showing off his talents.
"I inspire to be a better player by working hard on and off the field," he said.
When Ella Quigley found out she had made the varsity cheerleading team, she was ecstatic.
"Usually, sophomores don't make varsity, but there's also a new coach this year," Quigley said. "Some things have adjusted which is totally fine. It was pretty cool to make varsity."
Quigley started her high school cheerleading experience just one year ago but has done all-star cheer since she was in first grade and plans to incorporate her passion into her future plans.
"I've been a cheerleader my whole life so I'm definitely thinking about doing cheer in college," Quigley said, "I'm doing some clinics soon for stunting, but high school cheer [has] definitely helped me and also all-star cheer [has], too."
Quigley was surprised when she got the news that she made varsity cheer as a sophomore.
"If you really want to make varsity and you're younger, it's not all about tumbling and your skills," she said.
Quigley said high school cheer is mostly about having spirit, connecting with the team and being sharp — this is why some of the sophomores who tried out made varsity.
"It's a lot about smiling and being really energetic," Quigley said. "That's what people who watch want to see."
Quigley thinks the connection with the upperclassman on the team really makes a difference because they inspire her to do her best.
"My favorite part about high school cheer is [that] I meet a lot of new people and make new friends," Quigley said. "The bond we all have with BV Cheer is really cool."
Sterling Lockett has come from a long legacy of football being that his dad, uncle and brother have played for teams such as the Jaguars, Seahawks and even the Chiefs.
He said he doesn't feel pressure from their achievements and uses them as inspiration.
"I just see it as a goal to look up to and try to reach so it's more motivation," Lockett said.
He began playing football in second grade and made the varsity football team this year.
"I was excited when I found out," Lockett said. "I felt like it was going to be a really good year."
Lockett said putting in extra work and dedicating himself toward something every day gave him a better chance of making the team.
"It's better playing with the upperclassmen because you're going against bigger and stronger people, so it just helps to get you more accustomed to the game," Lockett said. "[You could say] when I first started it was intimidating, but the more you play, the more you get used to it."
He said he would love the chance to play football in college but is consumed with his training schedule now.
"Our normal football practices are usually around three hours every day," Lockett said. "Then sometimes we'll stay after and do some extra things."
Lockett also plays basketball and baseball for the school.
"My time is consumed with a lot of sports," Lockett said. " I also enjoy spending time with my friends."
Lockett's first varsity touchdown was in the game against Blue Valley North.
"Just being around my teammates and having a good time is the best part," Lockett said. "I like being around the team and getting to work."