VSCO or VSCNO?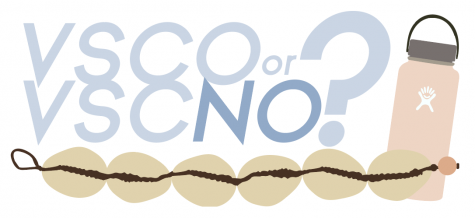 VSCO girls — they're everywhere. 
They walk the Blue Valley hallways, sporting oversized t-shirts and scrunchies, clinking their hydroflasks, and responding to everything with "sksks". A lot of people have hopped on this trend, inspired by the VSCO app. 
Although many girls have adopted this style, whether accidentally or on purpose, some people are strongly opposed to this new style and culture.
VSCO GIRL:
Sophomore Emily Oppold considers herself to be a VSCO girl. She discovered VSCO when she noticed one of her friends editing a photo using the app. 
Oppold's favorite VSCO content is summer ideas and activities rather than specific styles. 
"My favorite [trend] is probably things to do in the summer, like painting on your back," she said.
However, Oppold is opposed to glorified e-cigarettes on VSCO.
"Some people post about vaping," she said. "They think it's cool. I'm not into that."
The price to have the original VSCO style is expensive. 
"100 [dollars] for one outfit if you have Air Force One [shoes]. Those are expensive." Oppold said.
Oppold wants VSCO haters to understand why they follow these trends. 
"Just because we're basic doesn't mean that we don't have fun," Oppold said. "People think we do it to be like everyone else, but it's mostly just to have fun."
ANTI-VSCO GIRL:
On the other hand, VSCO trends have been heavily criticized by some people.
As for the app itself, sophomore Sarah Hallock has never downloaded the app. 
"I don't need that," she said. "I've got other editing apps."
Hallock uses scrunchies on her hair but doesn't like the way VSCO girls wear it. 
"Why do you need to have a bunch on your wrist if you're not using them?" Hallock said.
Hallock doesn't like Hydroflasks, one of the most well-known VSCO accessories, because of their price. 
"Why would one spend $60 or $70 for a metal water bottle you can get from Walmart for so much cheaper," Hallock said. "It's the brand name. I've always had a problem with brand names."
Despite Hallock's opposition to VSCO girls, there are some trends she supports. 
"I do like the reusable straw because I love the environment," Hallock said.
Hallock leaves the VSCO girls with activist advice. 
"Save all marine life — not just the turtles," she said.