Top Dog
Wrestling captain focus on final season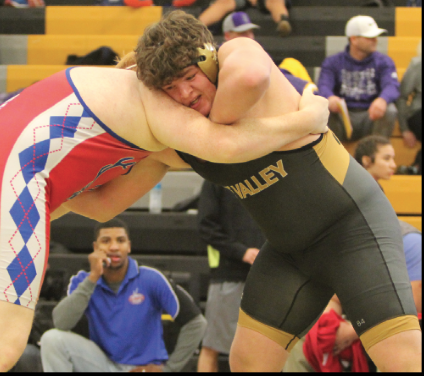 On and off the wrestling mat, senior Evan Taylor has dominated not only athletically but as strong leaders as well.
Although many students are aware of the athleticism in Taylor, many do not know the sport of wrestling and how it works.
"It's very technical," Taylor said. "I think if you watched it uninformed, you would see it as barbaric or a little bit undisciplined or cutthroat, but there's actually a lot that goes into it."
Taylor said wrestling is a lot of thinking and being able to read and react very quickly along with understanding what the person you're wrestling is trying to do and then being able to counter that.
"There's a lot of brainpower that goes into it, surprisingly," Taylor said. 
He said barring any stoppages, it's supposed to be three two-minute periods — that's usually standard. Matches can end early with an injury, or, the most common way to end early is someone getting pinned. 
"Those two things can happen, and then if it's tied at the end we'll do over time," Taylor said. "It's, pretty straightforward. Taking someone down is worth points, getting away from someone is worth points. Putting someone on their back is worth points. Things that you would expect to be scored are scored, but there's a lot of little nuances and things in there that are hard to understand if you're not actually doing it."
As Taylor grew up, he was a basketball player, so he tried out for basketball his freshman year and didn't make it, causing him to not do a winter sport freshman year. 
"Sophomore year, coach [Kale] Mann talked to me in the fall, he was like, 'Hi, I know you don't have any winter sports lined up, do you want to come wrestle?' I'll be really honest — I said absolutely not," Taylor said. "That does not sound like it's for me. He said 'That's totally cool I just want you to consider it.' I looked into it and I realized that it has the potential to benefit you positively in other sports you play and teach you a lot of life lessons. 
"It's a tough sport," Taylor said. "It's difficult. There are some skills that you need to develop for later life so I gave it a shot. I lost a lot of weight and was in the best shape of my life. In turn, it helped me become a better football player and made me a better track and field athlete. Things that I didn't necessarily expect to be a result, ended up being a result. It was a really positive experience."
Taylor said that wrestling is an individual sport but there are team aspects that come into play as well. 
"Every time you wrestle, you're only wrestling one other person and it's just you," Taylor said. "At every wrestling meet, there's team scores, and you can contribute to your team by winning matches. We're always encouraging each other at meets to go for those extra points and try and help us out in the team rankings. The same goes in the practice room as well."
Even though it's individual the wrestling team spends a lot of time together, especially on traveling tournaments, Taylor said.