Did Someone Say Donuts?
Volleyball team, cross country runner take first place at State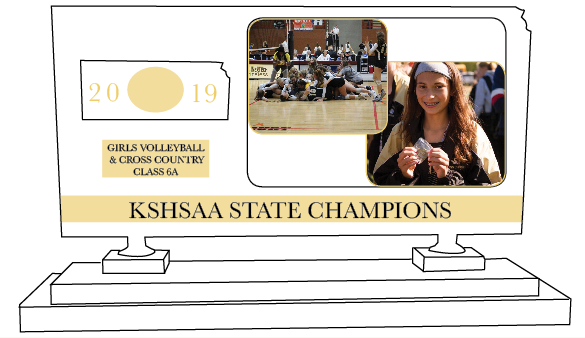 Recently, history has been made here at Blue Valley. For the first time ever, volleyball earned a State Championship.
Senior captain Lindsay Lahr and junior Emma Williams share their experience and thoughts regarding this monumental event that took place on Nov. 2, 2019.
After defeating Washburn Rural in the final game, Williams described how all the hard work, sweat and tears paid off.
"It was so amazing," Williams said. "The whole team felt relieved and so happy."
On behalf of the underclassmen on the volleyball team, they felt the seniors stepped up this year and made it a priority to create a family feel to the team's atmosphere.
"They all pushed us to be our best," Williams said. "That's one of the main reasons why we were so successful."
Although the team has impacted our students and school history, Lahr said the student section had a large impact on them as a team.
"We feed off of their energy as much as they do ours," Lahr said. "They create an awesome environment and it helps knowing we have our friends there to support us."
Despite the stress that State brought upon the teams shoulders, Lahr said "it was all worth it."
Coach Dave Johnson has brought up numerous excelling athletes throughout his coaching career at BV.
Among these athletes is senior Evelyn Diederich who recently received from Children's Mercy Sports Medicine the Performance of the Week Award and the KSHSAA 6A Player of the Year. Johnson was named KSHSAA Coach of the Year.
In addition to the success volleyball has achieved this fall season, sophomore Tori Wingrove has surpassed all expectations the cross country team had in mind. Only as a sophomore, Wingrove set a new school record of 18:24, remained undefeated after running seven 5Ks and won the 6A State cross country title.
"It feels weird because last year I didn't win at all — I never thought I would win State," Wingrove said.
Although she makes this sport seem simple, it was by no means an easy goal to obtain.
"Staying motivated was very difficult," Wingrove said.  After a season full of success and hard work, Wingrove looks forward to next year as she defends her title as a State champ.
"I have to remember that it is all going to pay off," she said.